Indigenous Art is Officially Open!
Woodland Cultural Centre invites you to the virtual opening of our new exhibition, Indigenous Art 2021, running from September 11 – November 20.
Established in 1975, this is one of the longest running multi-media exhibitions that provide artists with an opportunity to exhibit and sell their work in a fine art gallery setting. WCC is pleased to announce the return of this annual Juried Exhibition and we can't wait to share the selected works with the public.
Many of the pieces in the exhibition are for sale and we encourage you to support these artists and display their work proudly in your home and establishments. Our Digital Price List is available for download and our Virtual Facebook Live Opening allows you to see some of the work up close and personal.
Don't forget to make your selection for our People's Choice Award, either in person or with our online voting form.
Explore Our Artists Below and Check Out Their Pages to Learn More About Them and the Art They're Featuring This Year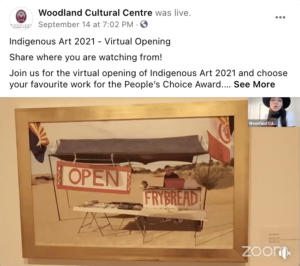 Did you miss our Facebook Opening Reception? Watch here to see a walk through of the Indigenous Art 2021 Exhibition and hear from some of our featured artists!
Several items within Indigenous Art 2021 are for sale. Download our digital price list and support Indigenous Artists by purchasing their works and displaying them proudly in your homes.
Remember to book your admission tickets to come to see the exhibition in person!
Share This Story!