The artifact collection includes:
Archaeological findings from registered archaeological sites in Southern Ontario as well as a limited number of amateur archaeological collections that have been evaluated and verified by licensed, professional archaeologists

Ethnographic collections from noted academics such as the musicologist Gertrude Kurath, ethnologist and Curator Emeritus of the Royal Ontario Museum, Trudy Nicks

Historical materials from notable families such as the Augustus Jamiesons, the Sky/Jamieson family, Thomas V. Hill family, Hilton Hill collection, Dr. Peter Martin, and many others
These artifact collections are represented in the dramatic storyline of the Woodland Cultural Centre Museum.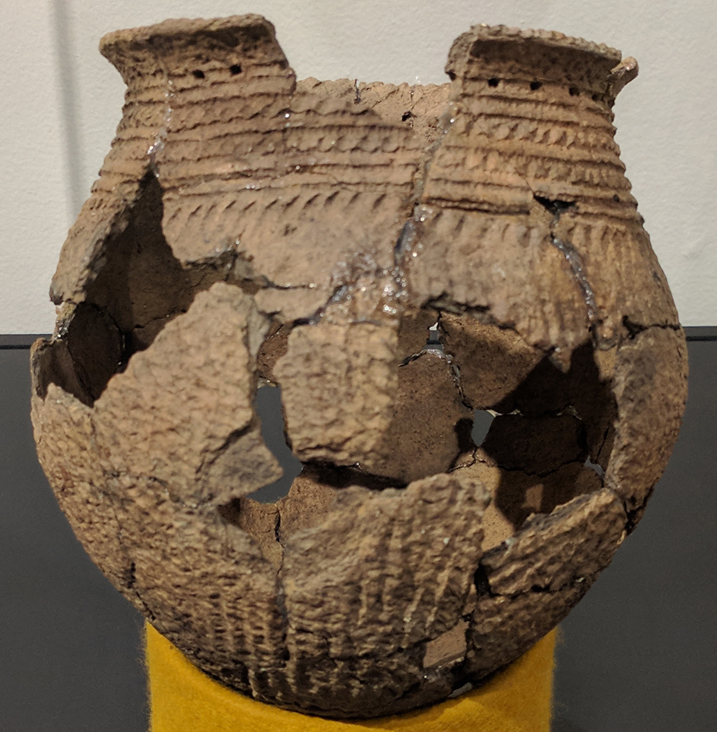 Reconstructed Princess Point Ceramic Pot, Cootes Paradise site, 2000 years old, found with petrified corn inside remnants, Artifact Collection of the Woodland Cultural Centre
The museum collections also hold hundreds of archival images and documents pertaining to the history of the three support communities. Comprised of both original source and reproductions, the photographic collection includes images from the 1840s through the twenty-first century. Notable images include a restored photo from the late 1800s of Medina Baptist Church at Six Nations of the Grand River; the famous Community Hall at Ohsweken Fairgrounds; and a collection of portrait images of those members of the three support communities whom served in World War One (incomplete but the Centre is still working on getting photos of each soldier).
The archival documents collection includes several historic books translated into Haudenosaunee languages, personal journals from community members (in both English and Mohawk or Cayuga), land deeds, wills, and minutes from community organizations such as the Six Nations Agricultural Society. Some of the documents have been transcribed and are available for research purposes.
Photograph, Sally Weaver Collection, c. 1870s, John A. MacDonald visiting Old Council House at Six Nations, Archival Collection of the Woodland Cultural Centre
Combining both contemporary and historic artworks, the art collection of the Woodland Cultural Centre is the envy of many. Norval Morriseau, Arthur Shilling, Daphne Odjig, Joe Jacobs, Carl Beam, Arnold Jacobs, Blake Debassige, Steve Smith, Lorna Hill, and many other well-known artists have works in the Centre's contemporary art collection. The Woodland Cultural Centre is proud to house the world's largest collection of historic artworks by James Beaver; a Six Nations craftsman and artist from the late nineteenth – early twentieth century.
975.10.1 "Eagle Over Tree of Peace", Arnold Jacobs, Contemporary Art Collection of the Woodland Cultural Centre