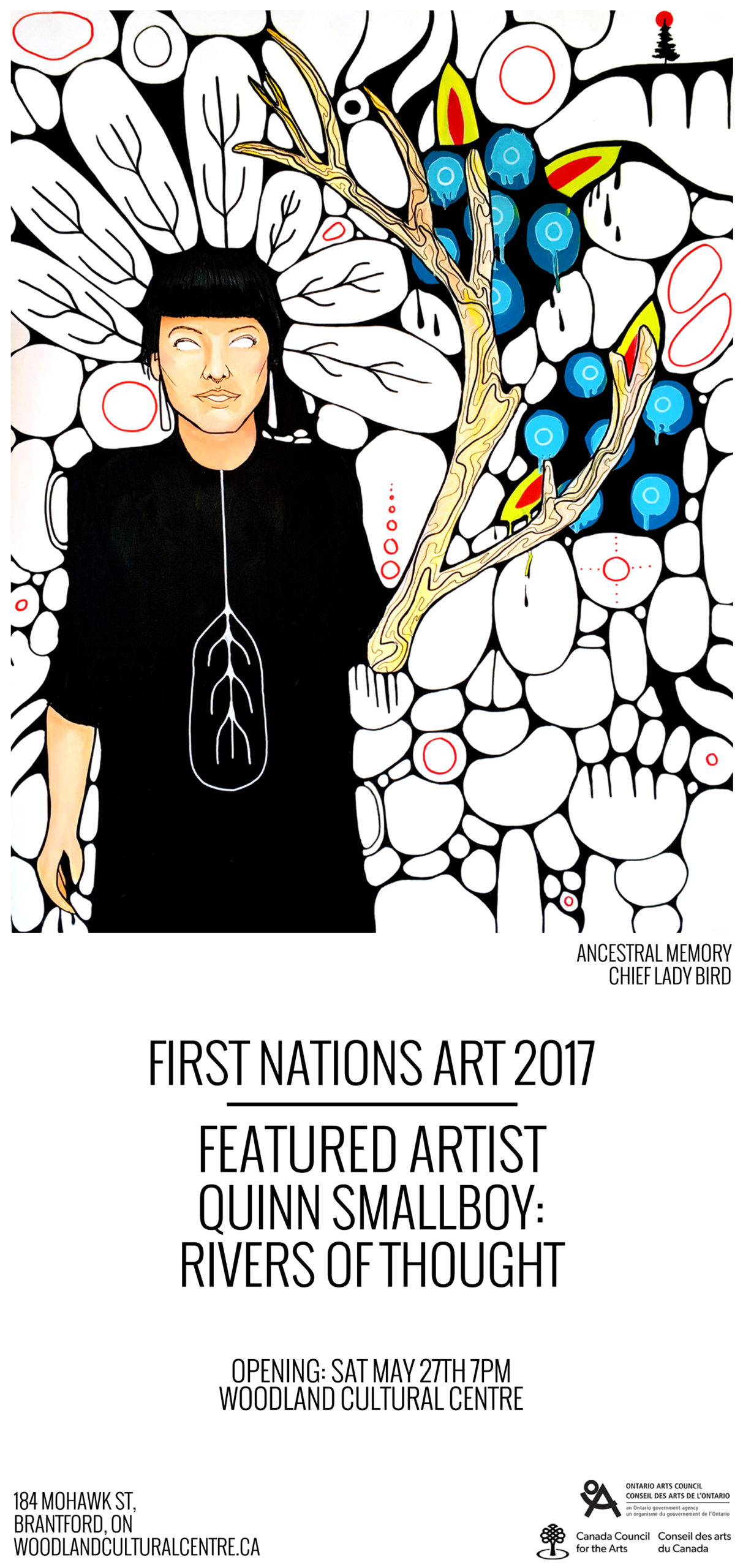 FOR IMMEDIATE RELEASE: Brantford/Six Nations,ON (27 April 2017) – The Woodland Cultural Centre (WCC), a leader in the field of First Nations museum exhibitions, artistic endeavors, research facilities and cultural programming, is delighted to present the 42nd Annual First Nations Art exhibition curated by Gyeho Thomas and Carley Gallant set to open May 27, 2017.
Established in 1975, First Nations Art (FNA) is one of the longest running annual exhibits that provide a space for established and emerging Indigenous artists to exhibit and sell their work in a gallery setting. The exhibition runs May 27 through July 28, 2017 at the WCC and will bring together artists from across Turtle Island.
Quinn Smallboy (Moose Factory, ON) has been chosen as this year's Featured Artist. His solo exhibition Rivers of Thought will explore "common symbols of Indigenous cultures and practices" as he explains, investigating Indigenous art with Western Ideologies.
Over 120 works were submitted to this year's FNA making the jury process one of the largest yet. The Woodland Cultural Centre would like to thank all the artists who submitted their works to FNA 2017. Without the support of local artists and communities, we could not continue the tradition of First Nations Art at the Woodland Cultural Center.
FNA 2017 will showcase the following artists:
Montana Adams, Thomas H. Anderson, Jocelyn Antone, Monique Aura, Michael Barber, Alex Jacobs-Blum, Dakota Brant, Janice Brant, Jennifer E. Brant, Catherine Dallaire, Tim Doctor, John Dodsworth, Deron Ahsén:nase Douglas, Elizabeth Doxtater, Amanda Marie Flynn, Lorrie Gallant, Yvonne Garbutt, Shel General, Kelly Green, Jay Havens, Char Hemlock, Doug Henhawk, Anthony (TJ) Henhawk, Barbara Helen Hill, Ronnie Hill, Summer Hill, Ted Hoffie, Mary Jacobs, Samantha Jacobs, Clayton King, Nancy "Chief Lady Bird" King, Paul Kohoko, Lindsay Lickers, Martin A. Loft Hill, Patrick Martin, Mark Neal, Holly Pichette, Karalyn Reuben, Judi Henhawk Sault, Semiah Smith, Keitha Keeshig-Tobias, Nelson White, Nico Williams and Elliott Doxtater-Wynn.
The Woodland Cultural Centre gratefully acknowledges the continued support from Canada Council for the Arts and the Ontario Arts Council for making First Nations Art possible.
Join Woodland Cultural Centre at the Opening Reception on May 27, 2017 at 7pm with special musical guest Lacey Hill. Light refreshments will be served by Family Traditions Catering.
For more information, please call 519-759-2650 or visit www.woodlandculturalcentre.ca.
Share This Story!