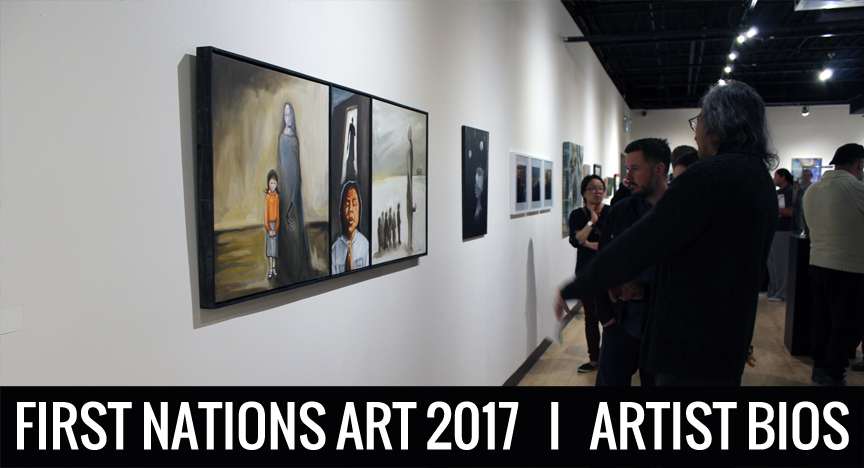 Quinn Smallboy, Featured Artist
Quinn Smallboy is an MFA student at the University of Western Ontario (UWO). Born in Moose Factory, ON, he moved to London, ON to complete his BFA, also at UWO. Smallboy's MFA thesis investigates what it means to be a contemporary, Indigenous artist.
Montana Adams
Anthony Montana Adams is a 31 year old native from the Aamjiwaang Reservation near Sarnia ON. He studied in the Fine Arts program at Fanshawe College but has been drawing his entire life. After college he stayed in London ON, where he has gotten into painting a lot more in the last four years, and has starting selling his work at art, native crafts, and Powwow vendors throughout Southern ON, as well as through his business Facebook page. Montana's preferred mediums for his pieces at the moment are Acrylic, Oil, Watercolour paintings and Charcoal drawings. Montana has also begun expanding his artistic talents into Tattooing, where the influence of his art flow into his tattoo pieces. Montana gains inspiration from pop art, or any abstract surrealism modes of art.
Thomas H. Anderson
Thomas Anderson is an aspiring artist from the Six Nations reserve. He is of the Gayogohono (Cayuga) nation and is from the turtle clan. His artistic journey started in the year 2012 and has kept growing more experienced with each year. Thomas is very inspired by his culture and traditions, as well as personal interests and this is apparent with his works. The preferred media of Thomas' is graphite pencils as well as charcoal. Along with the multitude of drawings, Thomas had dabbled in; carving soapstone, pottery, and painting. Thomas seeks to get his name out to the public and draw attention to his works. He plans to keep his journey to inspire those around him and to speak to others of the rich culture of his people.
Aura (Monique Bedard)
Monique Bedard (Aura) is a Haudenosaunee (Oneida) artist who grew up in a small town in Southern Ontario. She has been deeply and passionately involved in visual arts for 13 years. In 2006, she began a formal study of visual arts at Fanshawe College in London, ON. After three years of studies in London, she moved to Lethbridge, AB to complete an undergraduate degree at the University of Lethbridge. She received her Bachelor of Fine Arts (Studio Art) degree in 2010 and returned to Ontario where she began instructing group art lessons with children, youth and adults. Monique currently resides in Tkaronto as an artist and workshop facilitator. She is also a Diploma Toronto Art Therapy Candidate working on the completion of a major project titled "Our Stories Our Truths: an Art-Based Storytelling Project." Her art therapy practicum settings included: the Native Canadian Centre of Toronto, Youthdale Treatment Centres, Toronto District School Board, and Anishnawbe Health Toronto with an emphasis on art as healing. She is inspired by the healing journey: "I have the passion for community engagement, and collaboration where stories are shared through the art making process. It is my aim to empower people by focusing on our strengths. My goals is to build art projects that lead to a deep sense of understanding while connecting through the unity, collaboration and transformation."
Michael Barber
Michael has more than 20 years of graphic design, planning, and fabrication experience across a range of industries including tourism, advertising, small business, agriculture, professional and social services, and arts and culture. He works in several media, developing designs and applications for print, web, signs, garments, promotional materials, and more. A graduate of George Brown College, Michael is also an award winning mixed media painter and sculptor who has shown work across Ontario and the United States, including the Hummingbird Centre in Toronto and the Agora Gallery in New York.
Teyotsihstokwáthe Dakota Brant
Teyotsihstokwáthe is a mother, dancer, storyteller, gardener, educator, and an avid beadworker and regalia maker. She has travelled internationally as a cultural ambassador and speaking on issues spanning the Indigenous experience for over 10 years. Her artistic and career interests turned to modern fashion when she launched her lifestyle brand Sapling & Flint Designs along with her twin sister in 2014. Her designs have been run in fashion shows in New Mexico, Ontario, New York, Quebec and British Columbia. She expresses herself as a modern Haudenosaunee woman that finds strength and positivity through the vibrant stories and material wealth of her ancestors. She has a Master's Degree in Community Planning from UBC, is noted for winning the title of Miss Indian World, and is a Laureate of the Indspire Award.
Janice Brant
Janice Brant was born and raised in the Mohawk farming and fishing community of Tyendinaga on the Bay of Quinte. She sits with the bear clan and her traditional name is Kahehtoktha, "she goes the length of the garden."  Janice has been interested in art since childhood. She likes painting and working with natural materials such as clay, wood, vine, corn husk, and leather. She also enjoys looking at artwork and visiting with artists to learn and develop new skills and techniques. Gardening and cooking are other creative outlets that she explores with traditional Native food crops and seed stewardship activities. In many ways her interest in Mohawk culture, language and way of life guide and inform her art; paintings and sculptures. Janice began to show her work in 2010. She continues to live on the reserve and participate actively in the arts community.
Catherine Dallaire
Catherine Dallaire was born in 1979 in Kitchener, Ontario and currently resides in Waterloo, Ontario. She is Métis with roots in both the Kichesipirini band of Algonquin (Allumette Island) and the Weskarini band of Algonquin (Trois-Rivières). Her work has exhibited in several past First Nations Art shows at the Woodland Cultural Centre, as well as at joint and juried exhibitions at the Glenhyrst Gallery, Brantford, and at the Neilson Park Creative Centre with the Ontario Society of Artists. She has works owned by actor Adam Beach, singer-songwriter Susan Aglukark, and playwright & musician Tomson Highway. Her work has exhibited abroad in the avant-garde Art Basil LA, a counter-exhibit to the restrictive and exclusive Art Basilla. Her first solo exhibition,  Inawendiwag: They Are Related to Each Other, was held in early 2017 at Wilfrid Laurier University.
Tim Doctor
John Dodsworth
Deron Ahsén:nase Douglas
Deron Ahsén:nase Douglas is a Kanien'kehá:ka (Mohawk – Bear Clan) artist with roots in the Kahnawà:ke Mohawk Territory. Working with oils on canvas (although he has dabbled in stone and wood carving, clay, photography, water color, acrylic and print-making) he creates unique fine art inspired by his Kanien'kehá:ka culture. This culture he states, "…is an abundant source of creative expression" that helps him to entwine traditional values with contemporary subject matter. Working with bold colors, a crisp design and a unique sense of humour, he creates what he calls "a culmination of pebbles picked up along the path". He continues to work within his favourite medium and signs his oil paintings with his Kanien'kéha name as he did more than 40 years ago. The artist is currently working on a group of paintings that examines Native North American/North American Indian/First Nations/Aboriginal/Indigenous/NDN identity, culture and perspective. His paintings can be found within private collections across Canada and the United States, as well as Australia. He has formal training in the fine arts (art history and visual design), photography, computer science, social science, education and is a member of the Ontario College of Teachers.  Working with the York Region District School Board as an Indigenous Artist in Residence, he is given the opportunity to share his art, culture and oral stories to a variety of students from grades 1 to 12.
Elizabeth Doxtater
Elizabeth Doxtater is Mohawk Nation born and raised on Six Nations of the Grand River. Doxtater celebrates 'Indigenous – freedom' through her work as an Iroquoian: cornhusk sculptor, painter and author.  Her work includes a set cornhusk dolls depicting the ratification of the Great Law; the Journey of the Peacemaker, and her (2016) book 'Art of Peace' demystifies concepts found within the Great Law of Peace.  The Truth and Reconciliation Commission (TRC) released in 2015 identified 94 Calls to Action.  In 'Art of Peace' Doxtater provides: Call to Action #95, 'Let's call upon ourselves…' Doxtater has been recognized for the 2016 'Emerging Indigenous Artist' award from Ontario Arts Council, 2015 Six Nations Community Scholar recognition and runs 'Everything Cornhusk' a small gallery/shop in Ohsweken. Doxtater also works with 6 youth artists from Six Nations called: 'The Group of Six.'
Amanda Marie Flynn
A graduate of both Sheridan and OCAD, Amanda blends her fine arts training with her background in graffiti art and alternative media to create unique and colorful paintings. She works as a custom tattoo artist and has traveled the world to showcase her work, which has been featured in various international tattoo magazines. Her paintings and illustrations have appeared in the books GRAFFITI WOMEN: STREET ART FROM FIVE CONTINENTS and AMPHETAMINE HEART by Liz Worth. Her passion for the craft continues to push her in new directions both professionally and personally.
Instagram: @diamanda
Facebook: DiAmandaTattoo
Website: www.telltalehearttattoo.com
Lorrie Gallant
Lorrie Gallant is a writer, illustrator, storyteller, visual artist and educator, born and raised on the Six Nations of the Grand River Territory.  She is from the Cayuga Nation and the Turtle Clan.  Lorrie is the author and illustrator of her own series of children's books. She has coordinated and assisted in the creation and publishing of 8 books through intergenerational projects on Six Nations and 2 children's books created by the children of Wahta Mohawk Territory and Tyendinaga of the Bay of Quinte.  Lorrie developed 2 community arts projects with secondary students that created artwork exhibited at Mackenzie House Museum in Toronto, Nuit Blaunche Art's Festival in Toronto, Scarborough Museum and Kitchener's TheMuseum. Lorrie is the Education Program Coordinator at the Woodland Cultural Centre in Brantford and takes an artistic approach to reveal the rich culture of the People of Six Nations. She is the first woman and first Indigenous person to receive the Ontario Arts Foundation Artist Educator Award for 2015. BACKGROUND:  Self taught EXHIBITIONS:  First Nations Art 2009, 2010, 2012, 2013, 2014, 2016, 2017 COLLECTIONS:  private and public collections in U.S. and Canada.
Yvonne Garbutt
Yvonne Garbutt was born in 1964 and a Member of Curve Lake First Nation (Mississauga). She has an Honours B.A. at the University of Guelph and a B.Ed. at Queen's University. Yvonne had exhibited at WHETUNG ART GALLERY, First Nations Art at Woodland Cultural Centre, Nogojiwanong Millennium, Peterborough Arts Umbrella, and the Protest Art, Artspace in Peterborough, ON. Yvonne also has collections at the Art Gallery of Peterborough, Curve Lake FN, AANDC Art Gallery, and Trent University. Her publications and programs include Artistic Collaborations, TVO, Environmental Action Magazine cover, Community Canada, Oxford University Press, and the L'echo des songes/Shamen Never Die, Les Ateliers Audio Visuels de Quebec/NFB.
Shel General
Shel (Michele) General is Oneida Nation, Bear Clan of the Six Nations of the Grand River. Her Background of study includes Graphic Design, Applied Photography, and Creative Photography. Her exhibitions of work have been seen at Jamieson Elementary School, Six Nations Innovations, Healthy SixNay, Dajoh Youth and Elder's Centre, and First Nations Art at Woodland Cultural Centre.
Kelly Green
Kelly Greene, a member of the Six Nations Reserve in Ohsweken, Ontario, is of Mohawk, Oneida and Sicilian descent. Kelly was born in Buffalo, New York and has lived in London, Ontario since 1989 where she graduated from the University of Western Ontario with a Bachelor of Fine Art Degree. Greene's artwork has been exhibited primarily at the Woodland Cultural Centre in Brantford, Ontario in their annual exhibit, "First Nations Art" as well as other projects, and she has two permanent outdoor installations on display here. Kelly's also exhibited in galleries and museums in Banff, Vancouver, Montreal, Ottawa, Thunder Bay, Toronto, and London, Ontario. Her work is included in various collections in Ontario and the U.S. Her work focuses primarily on land claims and injustices of North America's Indigenous people as well as current environmental conditions.
Jay Havens
Jay is from Haudenosaunee-Mohawk and Scottish-Canadian ancestry and a proud member of the Six Nations of the Grand River, Mohawk Bear Clan. For the last 25 years he has lived on Coast-Salish and Haida territories specifically practising his craft in Sto:lo and Musqueam regions of Vancouver and the Fraser Valley.
Sehi:yo Char Hemlock
Charlene Hemlock's Indian name is Sehi:yo. She is from the Cayuga Nation, Wolf clan and lives on Six Nations of the Grand River. Sehi:yo has three children and is currently studying the Cayuga language. She has been painting since she was young and after High School, she attended Emily Carr Institute of Art and Design. Currently, she works as the Urban Aboriginal Healthy Living Coordinator at the Hamilton Regional Indian Center and attends the Ogweho:weh Language Degree program, Gayogoho:no', Six Nations Polytechnic on Six Nations Reserve. Sehi:yo's belief in healing our people through language, culture and overall wellness comes through in her artist expressions. She focuses on creating pieces that relate to our stories and teachings and find that connecting to culture through art is very empowering and healing.
Anthony Henhawk
Anthony Henhawk is a freelance artist who has been exploring different artistic venues over the past twenty years. He started acting at the age of 11 in the Six Nations' play "Chief Deskaheh" in which he played a young boy in awe of the legendary Chief. Following in the steps of his mother and older sister, also artists, Anthony participated in several group art projects and exhibitions at the Woodland Cultural Centre in Brantford, Ontario. After receiving a Graphic Design diploma from Mohawk College, and diploma for Video Game Development from George Brown College, Anthony pursued a business career at Rogers Communications. He continues to explore his creative side by writing, painting, photography, and graphic design.
Judi Henhawk-Sault
Judi Henhawk Sault is from Six Nations, Turtle clan of the Mohawk Nation. She has enjoyed working with clay along with her sister in law, who gave her lessons in this craft years ago. She enjoys decorating her pieces with her Haudenosaunee culture. It has led her to many interesting places to showcase her artwork.
Barbara-Helen Hill
In addition to being a published author Helen is a mixed media/textile Figurative Artist creating one of a kind Art Dolls and illustrations for books in addition to wall hangings. She is the cover artist for Shaking the Rattle, Collective Consciousness and Peacemaker's Lullaby CD. Helen returned to school at the wonderful age of 48 and received an Associate's Degree in Creative Writing and Fine arts from the En'owkin Centre in Penticton, British Columbia and then went on to get her BA with a Special Major in Native American Aesthetics/Creative Narrative and Visual Arts from SUNY at Buffalo 1997 completing her Masters Degree in 2000 from SUNY Buffalo.
Ronnie Hill
Ronnie Hill was born January 31, 1996, in Brantford General Hospital and currently lives in Six Nations Reserve. She is working towards a diploma for Graphic Design at Mohawk College in Hamilton, Ontario. While learning how to use a digital platform for art, Hill also enjoys to use acrylic paint for most of the completed artworks. Hill is eager to try various techniques and design theory to get a positive message out in the world that can result in great social change.
Ted Hoffie
Ted J. Hoffie is an Anishnaabe student enrolled in the Indigenous Visual Culture program at OCAD University. His work explores the cultural diversity of Turtle Island. His artwork ranges from photography to painting and drawing to comics that are influenced by American and Japanese animation and illustration. He is currently expanding his photography skills by exploring the streets, alleyways and lights of the city of Tkaronto.
Mary Jacobs
Mary is a Seneca Nation, Turtle Clan beadworker from Collins, Ny. Her past exhibits and awards include: Fennimore Art Museum – Beaded Hat in archives, Ganondagan Art / Culture Center – Beaded jewelry box permanent exhibit, NYS Fair Indian Village – Second place Beaded Baby Bonnet, Burchfield Nature Arts Center – Annual Native Roots Artist Guild exhibit, and Cayuga Museum – Biannual Native Roots Artist Guild exhibit.
Samantha Jacobs
Samantha is a Seneca Nation, Turtle Clan beadworker from Collins, NY. She has exhibited works and received awards at the Seneca Nation Fall Festival Art Show, New York State Fair Indian Village, Seneca Allegany Casino and the Seneca Iroquois National Museum.  
Keitha Keeshig-Tobias
Keitha Keeshig-Tobias Biizindam is an artist from Neyaashiinigmiing Chippewas of Nawash Unceded First Nations. Keitha grew up in the budding Native arts community in Toronto and graduated from the Arts Program at Central Tech and has a BSc from McMaster University. Keitha has mainly done small commission pieces over the years for family, friends and band programs. Now, Keitha has turned her energies to creating a large body of work and it is just pouring out of her.
Clayton King
This professional artist graduated in April 2010 with a Fine Art Advanced Diploma from Fanshawe College in London, Ontario. Clayton has painted predominantly with acrylics, but works with other mediums like photography, sculpture, graphite, traditional First Nation's crafts, and he also performs as a Northern Traditional Pow Wow Dancer. He has displayed his art in five solo exhibitions and twenty seven selected group exhibitions since his studies. Clayton contributes in the education sector in Simcoe County by doing First Nations painting and cultural interpretive workshops that help bridge an understanding of First Nations art and history to native and non-native students alike. Born and raised in St. Catherines, Ontario, Clayton has been a resident of Barrie, Ontario since the fall of 2011. He has also been running his business 'White Bear Art' since that time as well. Clayton Samuel King is of Potawatomi descent and is a member of Beausoleil First Nation.
Chief Lady Bird (Nancy King)
Nancy King is a First Nations (Potawatomi and Chippewa) artist from Rama First Nation. Her Anishinaabe name is Ogimaakwebnes, which means Chief Lady Bird. She has completed her BFA in Drawing and Painting with a minor in Indigenous Visual Culture at OCAD University and has been exhibiting her work since she was 14 years old. Through her art practice, she strives to look to the past to help her navigate her Anishinaabe identity whilst living in an urban space as well as advocate for Indigenous representation as an integral aspect of Canada's national identity. She addresses the complexity of identity through the use of contemporary painting techniques; woodlands style imagery, photography, digital manipulation and traditional Indigenous craft materials and often works with at-risk youth to ensure knowledge and skill sharing/development.
Paul Kohoko
Born in the beaches of Toronto, Ontario, Paul Kohoko is a self-taught artist from the Algonquin First Nation of Pikwakanagan, Golden Lake and of the Thunderbird Clan. He has worked in multiple mediums through the years including acrylics, pen and ink. In accordance with Anishinaabe tradition, self-taught artist Paul Kohoko naturally adopted the woodland or/ legend or medicine painting. He has since done a great volume of works throughout the years in Toronto and surrounding areas through private commission. Paul now makes his home with his wife at Six Nations of the Grand River territory where he continues to pursue his passion of art.
Patrick Martin
Patrick is a Mohawk from the Six Nations of the Grand River Territory in Ontario, born in 1956. His interest in art began at an early age in elementary school with charcoal and pencil on paper drawings being entered in the Ohsweken fall fair competitions. Patrick is a self taught artist with interest in pen and ink, graphite on paper and charcoal drawings which reflect his native culture and background. Although he dabbled in arts over the years, his artistic flame was rekindled in recent years with the birth of his first grandchild who he started drawing pictures for when she came for visits. Along with a renewed passion to do more art work, his retirement in 2015 after 32 years also allowed more time to refocus his artistic desires.
Mark Neal
Mark Kenneth Neal born March 24, 1981 in Phoenix, Arizona. He was raised in North Tonawanda New York before finding home in Tyendinaga, Ontario at 19. Mark is of Mohawk heritage and has always been very intuitive and gifted in art. Throughout his childhood and teenage years this only became more apparent as he practiced and honed his talent earning multiple awards and public recognition and was chosen to design the trademark logo for the Aboriginal First Nation Public Libraries of Canada. Mark draws inspiration from his very large and supportive family. Mark dedicates himself everyday to learn and grow to always be a better artist. He challenges himself to paint new subjects with new techniques and mediums but always strives for the true life realistic quality artwork he has become known for. Mark uses every avenue available to him to mature further with his talent and has made friends and mentors in his pursuit of knowledge like world renowned wildlife artist Robert Bateman. Mark has his artwork displayed in multiple galleries in both Canada and the United States. He has been featured in magazines and newspaper articles and spoken about his talents and personal techniques at local art shows and colleges. Through his partnership with a publisher Mark has sold limited edition prints around the globe. Mark also takes on commissioned pieces painting family portraits and pet photos and using his ability to give true life beauty on canvas to favourite photos. Mark maintains an active facebook page where he shares his art at various stages, shared techniques and advice, and answers questions to share as much of his talent as he can with the world as he himself continues to grow.
Holly Pichette
Holly Pichette is a woman of Swampy Cree and French Canadian ancestry and the proud parent of her 7-year-old son, Phoenix. She is a self-taught multi-disciplinary artist with over 15 years of experience painting and creating beadwork. Following her passion for visual arts she moved to London, ON in 2014 to pursue formal training. She recently graduated from Fanshawe College with an Advanced Diploma in Fine Arts. That same year she was part of a group exhibition, 'Pushing Back, where she displayed a series of life size road signs sculptures that address issues of privilege, land and water right and environmental racism. She was born and raised in Cochrane, a small community located in northern Ontario. She currently lives in London Ontario and plans to continue pursuing a career working as a professional artist.
Karalyn Reuben
Karalyn Reuben is an Urban Mixed Cree-Ojibwa German-British Artist, born in London Ontario. She lives in Toronto Ontario and is studying at the Ontario College of Art and Design University in the Indigenous Visual Culture program.  She previously attended the Nova Scotia College of Art and Design University in Halifax Nova Scotia where she specialized in printmaking and graduated with a BFA Interdisciplinary in 2013. Through her work she seeks to connect with the viewer on an emotional level.  Her works are investigations of existence and self-awareness, and are a hybridization of historic and contemporary imagery. She is drawn to responsibility to share how she thinks and feels in hopes in connecting with others in her search of herself. She is a resilience Indigenous Woman reclaiming her Indigenous identity and knowledges through learning of Indigenous Art, Material Culture, Histories and Issues and with conversations with her father of their language and ways of living.
Nelson White
Nelson White is an artist & illustrator who was born in the small community of Flat Bay, Newfoundland as a member of the Qalipu Mi'kmaq First Nation Band. His father is a respected  elder who was recently awarded the Order of Newfoundland for his lifetime of lobbying for the rights of Mi'kmaq in the province. Nelson attended the Visual Arts program at the then Bay St. George Community College and later the Nova Scotia College of Art and Design.  After a brief career in advertising, Nelson had a long career in administration both in professional sports and later non-profit. During that time he continued to paint and draw while focusing on commission and one off projects. Over the last number of years, Nelson has become a working artist with his pieces exhibited frequently throughout Canada in both group and solo shows. His work can be found in several private and public collections. Nelson currently lives in St. John's, NL with his wife Barbara, his daughter Rebecca, an English bulldog named Higgins, Sami the cat and several fish.
Clayton Windatt
Born in St. Catharines, Clayton Windatt has lived in the Northeastern region of Ontario for most of his life and is a Métis Multi-artist. After working as Director of the White Water Gallery Artist-Run Centre for seven years, he now works as Executive Director of the Aboriginal Curatorial Collective and as an independent curator. Clayton holds a BA in Fine Art from Nipissing University and received his Graphic Design certification from Canadore College. He works actively with several arts organizations locally, provincially and nationally on committees and boards of directors, including working with the National Arts Service Organization planning committee, Visual Arts Alliance, and CARFAC Ontario. Clayton maintains contract positions with various theatre programs and works as a critical writer and columnist for various newspapers and magazines. He works with the ON THE EDGE fringe festival, the Future In Safe Hands Collective, the Blood Teeth Bones Collective, and currently works with Business for the Arts as a Mentor in their ArtsVest program. Clayton works as a community artist, an events coordinator, a writer, designer, curator, performer, theatre technician, and consultant, and is an active visual and media artist.
Elliott Doxtater-Wynn
Elliott was born Mohawk/Ojibway in Sudbury, Ontario and grew up on Six Nations Reserve on Stoneridge Corner across from Hook's Store. After a whole bunch of schooling he ended up with and HBFA and Bed/OCT.  Greatest hits so far, worked the 2010 Olympic Winter Games in Vancouver, BC.,  and Coca-Cola, He has also received an Aboriginal Youth Achievement recognition award in 2007.  Elliott  was fortunate enough to be the first male Aboriginal to ever receive the Northwestern Ontario Visionary Award, "Top 20 under 40," through the Thunder Bay Chamber of Commerce (2012). He recently received the Thunder Bay Arts & Heritage Award for Artist of the year 2014 and currently working on a graphic novel series due to be released in the next year. Elliott currently teach Arts and Culture education throughout the city of Thunder Bay and the Northwestern Ontario region. Elliott was born Indian and be Indian until the end.
Share This Story!