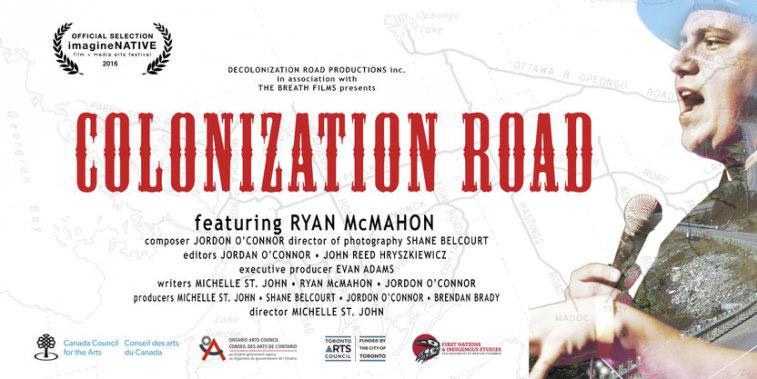 Join us for a FREE screening of "Colonization Road" at Woodland on April 19 at 7PM! "Colonization Road" was an official selection of the imagineNATIVE Film & Media Arts Festival in 2016. We'll bring the popcorn!
Film Synopsis
In towns throughout Ontario, there are startling reminders of the colonization of Indigenous territories and the displacement of First Nations people. Anishinaabe comedian and activist Ryan McMahon takes us to his hometown of Fort Frances and down its main drag, which is called Colonization Road. Similar streets have similar names in towns and cities across the province, direct reminders of the Public Lands Act of 1853 and its severe impact on First Nations, their treaties and their land in the name of "Canadian settlement." On his journey through Ontario, McMahon explores the history of these roads, meets with settlers in solidarity and raises significant questions about "reconciliation" and what it means to "decolonize."
Hosted by Ryan McMahon (www.rmcomedy.com). Featuring: Pam Palmater, Hayden King, Jeff Denis, Cuyler Cotton, Chief Erwin Redsky, Lee Maracle, Teika Newton, Al Hunter, Heidi Bohaker Rod McLeod, Daryl Redsky, Linda Redsky, Janis Redsky, Leanne Simpson, Niigaan Sinclair, Doug Williams and more.
For more information about the film, please visit: www.colonizationroad.com or view the trailer here:
Colonization Road Trailer from Frog Girl Films on Vimeo.
Share This Story!