Current Exhibitions
To view our current Exhibitions, please go to our Experience Woodland page and select options for Exhibition.
Benjamin Chee Chee: Life and Legacy
December 4, 2021 – March 5, 2022
Woodland Cultural Centre is thrilled to announce the retrospective exhibition "Benjamin Chee Chee: Life and Legacy" from the Timiskaming Art Gallery with Guest Curator, Felicity Buckell. The innovative and inspiring art of Benjamin Chee Chee will be on exhibit from December 4, 2021 and extended to March 5, 2022
Benjamin Chee Chee (March 14, 1944 – March 11,1977) grew up on Bear Island, Temagami Reserve. Chee Chee was more than a colourful personality and more than a tragic figure. He was a trail-blazing artist who worked alone because of his innovative style. He died young, leaving in the legacy of this youthful work the promise of what could have been. His work was prolific and distinctive, from his iconic series of "Benji birds" to an important grouping of seminal abstract artworks.
The "Life and Legacy" exhibition is the third major retrospective exhibition that was first held at the Thunder Bay Art Gallery (TBAG) in 1983 followed by in 1991, a second exhibition, "Benjamin Chee Chee: The Black Geese Portfolio", curated by Robert Houle and featured the last body of work prior to his death. Chee Chee was prolific and distinct. "Less was more", his painting reveals a tireless interest in abstracting the essence of an image. A strong design and structural minimalism are dramatic evidence of a continued exploration of positive and negative space, simple lyrical lines and monochromatic forms that depict images of wildlife. His renowned geese are breathing, flapping or flying giving a sense of vitality, grace and a sense of humour.
Thirty-five works are borrowed from the Indigenous Art Centre, Department of Indigenous and Northern Affairs (Gatineau), Thunder Bay Art Gallery, Temagami First Nation Band Council, private collectors and close friends of Chee Chee. An exhibition catalogue is available.
Sense of Belonging: A Place Called Home
June 4, 2022 – August 13, 2022
Woodland Cultural Centre Presents New exhibition Sense of Belonging: A Place Called Home
The Woodland Cultural Centre (WCC) is pleased to announce a new exhibition, Sense of Belonging: A Place Called Home. The exhibition features three contemporary Indigenous lens-based women artists whose artistic practice weaves painting, beadwork, photography to connect the notions of identity, family, community and land. Personal experiences as a modern woman narrate individual journeys through visual storytelling celebrating language, culture and history. Curated by WCC Curator, Patricia Deadman, the interconnectedness and inter-generational artworks are both inspiring and beautiful. The exhibition opens June 4 continues to August 13, 2022.
The Artists
Rosalie Favell is a photo-based artist, born in Winnipeg, Manitoba. Drawing inspiration from her family history and Métis (Cree/English) heritage, she uses a variety of sources, from family albums to popular culture, to present a complex self-portrait of her experiences. Over the course of her long career, Favell's work has appeared in exhibitions in Canada, Scotland, France, Taiwan and Australia. A graduate of Ryerson Polytechnic Institute, Rosalie holds a Master of Fine Arts from the University of New Mexico and a PhD (ABD) from Carleton University in Cultural Mediations.
Alex Jacobs-Blum, Lower Cayuga Nation of Six Nations of the Grand River Territory and German, navigates the Indigenous-colonizer hyphen of her identity through transformative experiential learning and critical self-reflective storytelling. Alex's work has been exhibited at the University of Ottawa, Woodland Cultural Centre and Critical Distance Centre for Curators and Yonsei University, Seoul, South Korea. A recipient of the Canon Award of Excellence for Narrative Photography she holds a Bachelor of Photography from Sheridan College (2015) and currently the Indigenous Curatorial Resident at Hamilton Artist Inc.
Shelby Lisk is a multidisciplinary artist, filmmaker and photographer with roots in Kenhtѐ:ke (Tyendinaga Mohawk Territory). Shelby explores complicated contemporary issues enmeshed in Indigenous and mixed-race identity by pointing her camera inward as an artist and outward as a journalist to capture people's connection to culture, land, and one another – especially through stories of Indigenous people in Canada. Shelby holds a degree in Fine Arts, University of Ottawa (2015); diploma in Photojournalism, Loyalist College (2019) and a certificate in Mohawk Language and Culture from Queen's University and Tsi Tyónnheht Onkwawén:na (2020).
Indigenous Art 2022: The 47th Annual Juried Exhibition
September 10, 2022 – November 12, 2022
Woodland Cultural Centre Presents The 47th Annual Indigenous Art Exhibition 2022
(Brantford/Six Nations, ON): The Woodland Cultural Centre would like to thank all the artists who submitted their works. Without the support of artists and communities, we would not be reaching 47 years of Indigenous Art at the Woodland Cultural Centre.
Established in 1975, this is one of the longest-running multimedia exhibitions that provide artists with an opportunity to exhibit and sell their work in a fine art gallery setting. This annual exhibition will feature upcoming talents as well as senior artists from all over turtle island. The contemporary pieces showcase the unique and powerful voices of Indigenous artists. This year the audience will investigate the political and cultural issues indigenous artists face within North America and within their work.
Our Museum and Galleries are an integral element of the Woodland Cultural Centre. The museum offers direct services to the Wahta Mohawks, Mohawks of the Bay of Quinte, and Six Nations of the Grand River communities. Your admission will help to support more exhibitions, publications, symposiums, and conferences that centre the voice of Indigenous Peoples.
Indigenous Art 2021
September 11 – November 20, 2021
Woodland Cultural Centre is pleased to announce the return of the annual Indigenous Art 2021 Juried Exhibition.
Established in 1975, this is one of the longest-running multi-media exhibitions that provide artists with an opportunity to exhibit and sell their work in a fine art gallery setting. Artwork that challenges, celebrates and investigates is encouraged.
The exhibition will be presented both on-site and virtually with a downloadable PDF publication. Artist profiles will be made available through WCC website.
The invitation is open to all emerging, mid-career and established artists (18+) of Indigenous ancestry. Artists may submit up to three works of art. All media will be accepted and works must be original and completed within the last two years. A Guest Curator will adjudicate the submissions.
See the Online Price List and Artist Bios on our Website.
---
Thomas V Hill: A Retrospective of an Artist
May 26, 2021 – August 28, 2021
Thomas V Hill: A Retrospective of an Artist Virtual Opening Ceremony
Woodland Cultural Centre is thrilled to announce their new exhibition celebrating the internationally recognized leading expert on Indigenous art, Thomas V. Hill. His special interpretation of Onkwehon:we art, culture and museology has been recognized around the world. Thomas V. Hill: Retrospective of an Artist the exhibition will be on display alongside Hall of Fame: Portraits from the Permanent Collection.
Most recognize Hill as being the first Indigenous art curator in Canada, but this exhibition will give the viewer the opportunity to see him as an artist. This will be the first time the public can view Hill's personal collection of works displaying his craft in portraiture, landscape, and abstract painting. Visitors will learn about what inspired Hill's artistic practice and will give you an understanding of Hill as an artist. The exhibition encourages a younger generation to become artists and to understand the connection between Hill's art and that of the land and people at Six Nations of the Grand River.
Thomas Hill will also be inducted into Woodland Cultural Centre's permanent exhibition, Indian Hall of Fame: Portraits from the Permanent Collection. The Hall of Fame recognizes and celebrates the cultural value, events, and contributions of local artists. It is a way to engage the local community in support of Haudenosaunee culture.
Witness Blanket
Dec 13, 2020 – March 27, 2021 (EXTENDED)
Witness Blanket Film Virtual Screening and Artist Talk with Carey Newman December 13, 2020 7PM
The blanket is a universal symbol of protection.
For many of us, it identifies who we are and where we're from – we wear them in ceremonies and give them as gifts
Blankets protect our young and comfort our elders.
Inspired by a woven blanket, the Witness Blanket is a large scale art installation, made out of hundreds of items reclaimed from Residential Schools, churches, government buildings and traditional and cultural structures including Friendship Centres, band offices, treatment centres and universities, from across Canada. The Witness Blanket stands as a national monument to recognize the atrocities of the Indian Residential School era, honour the children, and symbolize ongoing reconciliation.
Find our Witness Blanket Educational Resource Here
---
Quilt of Belonging:
Feb 29, 2020 – October 31, 2020 (EXTENDED)
Opening Reception and Artist Talk, Saturday February 29th at 2PM.
A richly hued portrait of the human family, Quilt of Belonging is a 120 ft long collaborative textile art project. The 263 blocks portray the rich cultural legacies of all the First Peoples in Canada and every nation of the world.
Over 3 million visitors have seen the Quilt and the artwork is also used in a variety of projects and education programs creating an impact nationally and around the world.
Quilt of Belonging was begun in the fall of 1998 by artist Esther Bryan. In 1995 she went on a life-changing journey to Slovakia with her parents to find the family and home her father had left behind 43 years earlier.
The dream of making this artwork was born as she recognized that everyone has a story to tell, each culture has a unique beauty and that the experiences and values of our past inform who we are today. In this textile mosaic, each person can experience a sense of belonging and find a place in the overall design – there is "A Place for All". Together they record human history in textile, illustrating the beauty, complexity and sheer size of the human story.
This monumental artwork, Canada's most comprehensive textile art project, is the work of volunteers from Victoria to Newfoundland to the Arctic Circle. From across Canada, participants were invited to contribute their talents and ideas, reflected through the prism of their cultural backgrounds. The range of materials is astonishing, from sealskin to African mud-cloth, from embroidered silk to gossamer wings of butterflies.
Units on the project are in school textbooks across Canada in both official languages. This work of art is creating an impact as it is used in a variety of projects and educational programs nationally and around the world. Free educational resources are available online for Teachers.
Check Teacher Resources Online
---
From the Hands of our Ancestors: The Art of Cornhusk
January 6 2020 – Feb 15, 2020
This exhibition is an acknowledgement and honouring of the cornhusk, one of the most important and ancient materials used by the Haudenosaunee.
Exhibiting artwork made from corn husk as well as sharing the versatility of the corn plant.
"Cornhusk protects. It has protected the integrity of the corn seed on each cob, on every stalk in every field, every year, for too many years to count. Corn is still gathered, and the husk is still braided for storing the same way that it has been for several years over many generations. The husk that has and continues to protect the integrity of each kernel of corn is now used to protect the stories." – Elizabeth Doxtater
Elizabeth Doxtater is one of the featured artists in this Exhibit alongside Frazer Sundown.
"Corn husk is something that is natural and comes from the earth. It becomes medicinal when working with corn husk and brings a sense of peace when working with it. Working with corn husk also brings people together where language, culture, and history is passed on orally. That being said, working with corn husk is not only a revitalization of weaving, however it brings our culture alive in its truest form." – Frazer Sundown
This exhibition will be on display in the Tom Hill and Judy Harris galleries of the Woodland Cultural Centre from December 7.2019 – February 15 2020.
All support community members receive FREE admission to the museum including: Six Nations of the Grand River, Tyendinaga & Wahta
Exhibit Dates:
Dec 7 – Feb 15th
184 Mohawk St, Brantford ON
Mashkiwizii
University of Waterloo Knowledge Integration Students
Aug 26 – Nov 21, 2019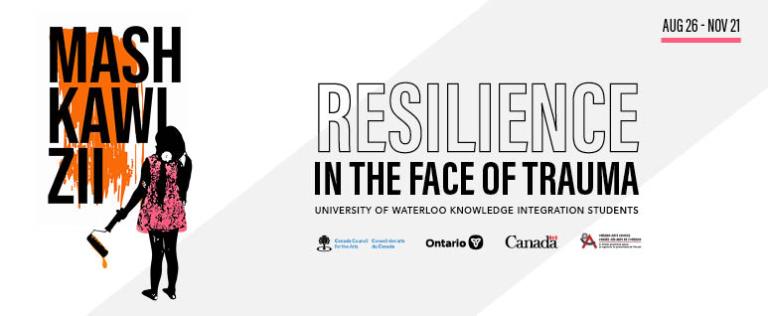 The Woodland Cultural Centre was excited to bring in Mashkawizii: Paint it Orange; Resilience in the Face of Trauma. This exhibit was designed as a shared learning space by Knowledge Integration students at the University of Waterloo. This exhibit aims to change the predominantly negative narrative surrounding Indigenous people, and to demonstrate the resilience displayed by these communities in the face of the intergenerational trauma caused by the Canadian residential school system.
This exhibit was created by Ben Ang, Findley Dunn, Ted Haag, Claire Quong, & Stephanie Ye-Moe.
The exhibit was open during our Survivors Gathering on Sept 29th and we encouraged everyone to walk through to get a full perspective of the life as a child in a Residential School.
---
People of the Dancing Sky
Myron Zabol
Aug 26 – Nov 21st, 2019
Myron Zabol's fine art photography focuses on the spirituality of people and places. His photography is breathtaking and creates a powerful emotional response to most that witness it.
People of the Dancing Sky documents the Haudenosaunee Confederacy with its individual and unique traditions rooted in nature and time immemorial. The harmony between the Haudenosaunee People and their natural environment are depicted in their traditional clothing, symbols, and activities.
People of the Dancing Sky is a rare personal insight into the exclusive collaboration between photographer Myron Zabol and the Haudenosaunee Confederacy.
---
Indigenous Art 2019
Artworks by Various Indigenous Artists
May 25 – Aug 11, 2019

As a leader in the field of Indigenous artistic endeavours and cultural programming the Woodland Cultural Centre has been presenting this Annual Indigenous Art exhibit since 1975. Indigenous Art (formerly known as First Nations Art) is one of the longest running annual exhibits that provide established and emerging Indigenous artists an excellent opportunity to exhibit and sell their work in a fine art gallery setting.
This year had dynamic contemporary pieces that communicated the unique and powerful voice of Indigenous artists. This is a yearly event, so if you missed it this year make sure you come to see the new work next year!
---
Tawâskweyâw ᑕᐋᐧᐢᑫᐧᔮᐤ A Path or Gap Among the Trees 25 Years
A Touring Survey of Artworks by Jason Baerg
March 2 – May 10, 2019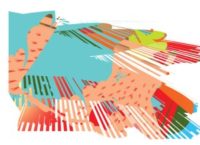 Painting is a sacred bundle that echoes through ancestral time, carry it responsibly and make a meaningful contribution to it.
The journey through twenty-five years of caring for drawing and painting has found innovative pathways through the conceptual and formal approaches of Cree Metis visual artist Jason Baerg. Grounded commitments to Drawing and Painting have been transformed, as time positioned an artistic practice into an expanding field of digital and material experimentation. As first generation new media artist, Jason Baerg forged fearlessly reaching towards unique ways to utilize emergent 2D, 3D, interactive, immersive and fabrication technologies. Conceptual themes of investigation have rigorously included: Community, Ritual, Urban Migration, Cree Cosmology, Native Relationality, Survivance, An Indigenized Anthropocene, Language Revitalization and Indigenous Futurisms. The dynamic ᑕᐋᐧᐢᑫᐧᔮᐤ / A Path or Gap Among the Trees exhibition charts key contributions Jason Baerg has made in the first 25 years of his artistic practice, which includes: interactive immersive generative media projection pieces and laser cut painting installations; both of which are some of the first produced and presented anywhere in the world.
The Woodland Cultural Centre is proud to present this body of work by the artist Jason Baerg. Please join us for a catered opening reception: March 16 at 7PM
Alan Michelson: HISTORICITY
September 15 – December 21, 2018
Historicity presents a collection of works by Alan Michelson, an internationally recognized New York-based artist, curator, writer, lecturer and member of Six Nations of the Grand River. This primarily digital and new-media presentation contains works that focus on site-specific art grounded in local context, informed by the retrieval of repressed histories.
The exhibition features new and recent new-media work, including the Canadian premiere of the 12-channel version of RoundDance, and the Six Nations premiere of TwoRow II.
For more information about the artist and his works please visit: http://alanmichelson.com/
Image: Hanodagayas, Alan Michelson
---
Gichitwaawizi'igewin: Honouring
Catherine Dallaire
May 26 – July 27, 2018
Catherine is a multidisciplinary visual artist whose work possesses unique form and energy, balancing elements and teachings from traditional Woodland art/Anishinaabe art/culture with contemporary techniques and subjects. With many works reflecting postcolonial messages, each piece aims to create synergy and harmony between these different stylings as a visual effort to build and maintain a balanced and peaceful relationship between her Anishinaabe and European ancestry. Many of her works strive to call to attention the importance of our connection to everything in nature, and respect towards it and all our relatives, particularly animals, plants and insects that are overlooked or whose importance and teachings have been altered by colonial attitudes and viewpoints.
---
Indigenous Art 2018
May 26 – July 27, 2018
Established in 1975, Indigenous Art, formally known as First Nations Art, is one of the longest running annual exhibits that provides a space for established and emerging Indigenous artists to exhibit their work in a gallery setting. This open call and juried show brings together artists from across Turtle Island, showcasing traditionally-based and contemporary art form in all visual art mediums.
We are excited to present the following artists for this year's exhibition!
Montana Adams, Aura, Michael Barber, Catherine Beaver, Chief Lady Bird, Jennifer E. Brant, Janice Brant, Donna Brinkworth, Jay Soule aka Chippewar, Chief Lady Bird, Sherry Crawford, Caitlin Daniel, Elizabeth Daniel, Suzanne Debassige, Deron Ahsén:nase Douglas, Elizabeth Doxtator, Janine Gates, Shel General, Odadrihonyanisoh (Sara General), Crystal Gloade, Kelly Greene, Doug Henhawk, Summer Hill, Brenda Hill, Cody Houle, Mary Jacobs, Samantha Jacobs, Alex Jacobs-Blum, Kaysha Jamieson, Keitha Keeshig-Tobias, Patrick Martin, Teresa Vander Mees-Chasse, Watio Tehawerénhton Miller, Penelope S. Minner, Brenda MItten, Shelley Niro, Joshua Pawis-Steckley, Holly Pichette, Ayana Proctator, Victoria Ransom, Judi Henhawk Sault, Laura Schwager, Quinn Smallboy, Kristen E. Summers, Andy Swamp, Teyewennarakwas, Todd Thomas, Debra Vincent, Nelson White, Samuel Williams, and Amanda Williams.
Image: Emily: A Portrait of a Bougie Rez Daughter, by artist Ahsén:nase
---
Despite All Misconception and Loss
January 22 – May 4, 2018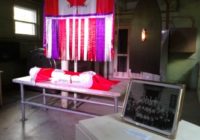 This retrospective exhibition features works by Kanienkehaka (Mohawk) artist Kelly Greene. Her body of work focuses on the meaning and implications of "commemoration" of national events and her own dubious sentiments towards their celebration. Kelly Greene has created works that without waver have been grounded in revealing hidden historical narratives and our relationships with the earth. The range of subject matter is personal to the artist and most often presents sensitive issues for Canadians including land claims, nationalism, residential school, religion and the costs of our environmental consumption. The Woodland Cultural Centre is proud to exhibit "Despite all Misconception & Loss" with works spanning a 20 year period.
---
…since forever…
January 22 – May 4, 2018
The Woodland Cultural Centre is proud to present the exhibition …since forever… a celebration of Indigenous existence, resistance and survival. From its inception, this exhibition has recognized the importance of critical reflection upon Indigenous peoples' inherent right to be heard. The thematic content of the works each address celebration juxtaposed with history. Their work was not produced in the service of a sesquicentennial anniversary. Theirs is an honest statement from the perspective of Indigenistance. In this respect …since forever… contributes to the dialogue and process of healing and reconciliation between Indigenous peoples and Canadians. Featured Artists: Tracey Anthony, Elizabeth Doxtater, Barbara-Helen Hill
---
Legacy Blanket
December 21, 2017 – January 17, 2018
The Legacy Blanket encourages respectful exchange between youth, artists and the community. Join us as we gather to celebrate and recognize the sharing of Indigenous stories and knowledge. This exhibition and gathering acknowledges all participants including: local youth, artists, community, as well as the cultural and educational organizations involved.
This project, initiated locally, brings together unique creative forms – art, design, music and stories. Indigenous stories are contextualized within these textile works, with a focus on historic events, resilience, wellness, and healing. The Legacy Blanket encourages exploration, dialogue, enjoyment, sharing and caring. These Indigenous works were created through collaborations between community youth and elders.
Richelle Miller
Project Facilitator
The Legacy Blanket project shares family stories with the community, incorporating shared Indigenous stories, art and knowledge through blanket designs created by community.
It is a celebration of the youth artists, and their creations serve as a gift to their families and community.
This project has created opportunities for individuals, families, service providers and other community members to collaborate with the intent of caring. To practice Indigenous ways of knowing and our responsibilities to others, and all aspects of the natural world.
Onkwehon:we Matters Archaeology Exhibition
September 5 – December 22, 2017
Indigenous people have called North America home.
Our Creation Story informs us that early beings began new life on the back of a turtle: hence we refer to our land base as Turtle Island.
Onkwehon:we Matters will feature relevant cultural material unearthed by archaeologists from within Ontario with a particular emphasis focused on the Grand River as home to the largest Haudenosaunee population in Canada.
---
First Nations Art 2017
May 27 – July 28, 2017
Established in 1975, First Nations Art (FNA) is one of the longest running annual exhibits that provides a space for established and emerging Indigenous artists to exhibit and sell their work in a gallery setting. On until July 28, this exhibition brings together artists from across Turtle Island. Over 120 works were submitted to this year's exhibit, making the jury process one of the largest yet. The Woodland Cultural Centre would like to thank all the artists who submitted their works to FNA 2017. Without the support of local artists and communities, we could not continue the tradition of First Nations Art at the Woodland Cultural Centre.
Artists featured in First Nations Art 2017 include: Montana Adams, Thomas H. Anderson, Jocelyn Antone, Aura (Monique Bedard), Michael Barber, Alex Jacobs-Blum, Dakota Brant, Janice Brant, Jennifer E. Brant, Catherine Dallaire, Tim Doctor, John Dodsworth, Deron Ahsén:nase Douglas, Elizabeth Doxtater, Amanda Marie Flynn, Lorrie Gallant, Yvonne Garbutt, Shel General, Kelly Green, Jay Havens, Char Hemlock, Doug Henhawk, Anthony (TJ) Henhawk, Barbara-Helen Hill, Ronnie Hill, Summer Hill, Ted Hoffie, Mary Jacobs, Samantha Jacobs, Clayton King, Chief Lady Bird (Nancy King), Paul Kohoko, Lindsay Lickers, Martin A. Loft, Patrick Martin, Mark Neal, Holly Pichette, Karalyn Reuben, Judi Henhawk Sault, Semiah Smith, Keitha Keeshig-Tobias, Nelson White, Clayton Windatt and Elliott Doxtater-Wynn.
View Artist Statements here.
View Artist Bios here.
---
Rivers Of Thought Quinn Small boy
May 27 – July 28, 2017
Woodland Cultural Centre is excited to announce Quinn Small boy as the featured artist of First Nations Art 2017. Small boy's current practice investigates Indigenous art and its relation within Western ideologies, specifically, where does it fit within the contemporary field of art? Rivers Of Thought explores common symbols of Indigenous cultures and traditions from the traditional hand drum of the powwow, to intricate string work. Rivers Of Thought includes large scale webbings of string, to small hand drum size. On an abstract level, the exhibit explores a balance between lines and space. In shaping a space, Small boy employs the use of the line, represented by rope and string. The characteristics in which Small boy uses the material, help him build a base or platform, which he then assembles in multiple lines of conversion to animate a void.
---
Walking Together
February 4 – May 2, 2017
"Walking Together" is a project that brought eleven First Nations students grades 10-12 from Pauline Johnson Collegiate and Vocational School in Brantford, together with former students of the Mohawk Institute Indian Residential School. Students participated in workshops on the history of residential schools in Canada, information gathering, interview skills, the art of digital photography to tell a story, and the creative expression of encaustic art.
The goal of this intergenerational community arts project was to remind the youth of an important part of their First Nations history and to remind Canada that this is their history as well.
Walking side-by-side with survivors, these students spent a day discovering the heartbreaking legacy these survivors have carried their whole lives. The students were inspired by their courage and gained a new appreciation of their own freedom to speak their language, celebrate their culture, and enjoy life.
---
UnREZerved
February 25 – May 2, 2017
Authoritative constructions of geographic documents such as maps, are often represented as bordered and contained. This makes it difficult for non-Indigenous people to conceptualize borders as transforming over time; not that they do not exist, but that they transform in relation to multiple fields of engagement and cultural contexts. Geographic borders also work to distance us from one another, especially in terms of national boundaries, which in turn create nationalities: peoples defined within those territorial borders. At the same time, these geographic boundaries can be important defining features of a community. "UnREZerved" includes subject matter of creation stories, legends, significant reference marks for cultural significance, traditional place names, negotiations with the government, and commodification of natural resources. All of these features lead to a better understanding of the treaty process that is currently in effect, "as long as the sun shines, the rivers flow, and the grass grows".
In this exhibition, the viewer is "UnREZerved" to explore visual storytelling that challenges our acquired and sometimes preconceived personal knowledge. Perusing subject matter of the artists' and understanding the forces of assimilation from each of their collective treaty boundaries, the experience can education and better inform viewers. The complexity of this issue is juxtaposed in relation to subject matter of works chosen from the Woodland Cultural Centre's permanent Collection. Common themes of natural and supernatural connections do not delineate far from one another. Noticeable difference is usually represented in the style or technique. Woodlands style often replicates "X-Ray" stylized paintings. In this exhibit, we should find new inspiration through historical and contemporary visual storytelling created by the original inhabitants of this land. Forward-thinking, allows a better understanding and a respectful opportunity for a cultural sharing of knowledge that would include reciprocal learning without prejudice as a basis of new understanding.
---
Opening the Doors To Dialogue
September 2 – January 31, 2017
Opening the Doors to Dialogue is a reconciliation project led by Cayuga bead artist Samuel Thomas (Six Nations of the Grand River) in partnership with the Woodland Cultural Centre (former Mohawk Institute Indian Residential School 1828-1970). This collaborative project involves artists, organizations, Elders and community members both Indigenous and non-Indigenous made up of residential school survivors, their descendants, and the general public. Through a series of beadwork sessions, the project beaded 7 doors salvaged from residential schools across Canada. This project will not only open the dialogue between several people during the creative development of the artwork, but continue to create dialogue for thousands of viewers for years to come through the finished work and public exhibition.
Tyonatyerenhtòn:ne -They Were The First
August 19 – December 16, 2016
This exhibition reflects on Onkwehon:we matrilineal society, while presenting the impact and contributions Onkwehon:we women have had from Mohawks of the Bay of Quinte, Six Nations of the Grand River and Wahta Mohawks. Sometimes greatness is recognized by worldly achievements, accolades and trail blazing efforts. Not to say that achieving greatness through these means isn't commendable, but what about those women who not only were the first in their respected fields but were doing everyday things that many of us take for granted?
Onkwehon:we women have always held a high level of respect amongst their peers. In Onkwehon:we society the women are the life-givers for future generations. It is also through the women, that the children receive their nation and clan identity. Some women also hold high ranks in political society as their maternal rights to choose a chief and equally could dispose of his chieftainship. It has also been referenced that Onkwehon:we women were the true feminists.
In this exhibit, women are recognized for paving the way for the future. Highlighting achievements that some women made on the world stage, but more importantly contributions these women made during their lifetime to their community.
---
Salvage Anthropology
May 27 – July 29, 2016
Salvage Anthropology was a term coined for the justification of Euro- Americans to take possession of First Nations artifacts and document the "vanishing race". Many people believed First Nations people were becoming extinct through illness, war and assimilation. This exhibition questions notions of the vanishing race theory while exploring the artist's identity and its relationship to historical and contemporary life. This exhibition is the first solo show featuring the works by artist Jennifer Lickers.
---
First Nations Art 2016
May 27 – July 29, 2016
The Woodland Cultural Centre is a longstanding Cultural Centre of Excellence that promotes and supports the Visual Arts of Canada. Established in 1975, this exhibition is one of the longest running annual exhibits that provide established and emerging First Nations artists an excellent opportunity to exhibit and sell their work in a fine art gallery setting. This year's First Nations Art features the works of over 35 artists and features: painting, photography, installation, beadworking, pottery, and other mixed media. Opening Reception featured a musical performance by Melody McKiver
---
Performagraphic
February 13 – May 6 2016
The collection of works by the famed performance artist James Luna spans a period of photographic works and accompanying objects created between 2010-2014, referencing over 30 years of his artistic career. Luna a Pooyukitchchum/Ipai native Approaches his work head on, with biting humour and irony, his powerful works transform the gallery space into a battlefield, where the audience is confronted with the nature of cultural identity, the tensions generated by cultural isolation, and the dangers of cultural misinterpretations from an Indigenous perspective.
The Art of Peace
May 15 – July 11, 2015
This solo exhibition by Six Nations – Mohawk artist Elizabeth Doxtater included an array of her well-known corn husk creations, and paintings. Themes/messages in her work are about remembrance and honouring the minutest parts of Haudenosuanee culture and family stories that might otherwise be forgotten. Through the production of her work, she is able to broach a variety of subjects including traditional, political, and on-going issues that affect our people.
---
No Word For Art
Jan 20 – May 8, 2015
For the Onkwehon:we the concept of art is not defined. Creative endeavours were a part of life and those who create, share their gifts for the pleasure of all. 'No Word for Art' is an exhibition highlighting the artistic achievements of Santee Smith. An accomplished dancer, performer and pottery maker this exhibition features one of Six Nation's finest creative artists.
KENT MONKMAN
August 8 – December 20, 2014
Kent Monkman is an artist of Cree ancestry who works in a variety of media including painting, film/video, performance and installation. Monkman has exhibited widely within Canada and is well represented in numerous private and public collections.
Enjoy the works of one of the most proflic practicing artists today. Featured paintings and installation pieces challenge the national conceptualizations of Canadiana and the invented mythos surrounding the histories of First Nations people.
*Artist talk and catalogue launch October 29, 2014 at the Woodland Cultural Centre 7PM
---
About eve – Tracey-Mae Chambers
May 9 – July 14, 2014
For the first time in its inception, First Nations Art will also highlight the work of a solo artist to run congruent with the exhibition. This year's selection for 2014 is Tracey-Mae Chambers. Her solo exhibition entitled 'about eve' is a visual narrative, addressing female body image and the state of women everywhere.
---
Fashio Native
January 13 – April 18, 2014
FashioNative fashion show and exhibition feature four of the finest contemporary First Nations fashion designers: Angela DeMontigny, Sage Paul, Chessa Syrette and Tracy Toulouse. Showcasing wearable art that celebrates traditional elements and contemporary practices of First Nations designers. The designs featured highlight the impact of Aboriginal fashion and attempts to de-mystify the idea of what First Nations fashion is.
Origins
October 28 – December 24, 2013
This exhibition features artistic works centred around the Onkwehon:we creation story, bringing together five First Nations artists: Hannah Claus, Elizabeth Doxtater, Katsitsion:ni Fox, Kelly Greene and Shelley Niro. Each of the artists presented in this exhibition has chosen to depict a certain perspective or element of this well known story. Their unique creations regardless of intention, inspiration, or final execution are testaments to the enduring qualities of the Onkwehon:we creation story, and its continual influence on the virtues and values of Onkwehon:we arts and culture today.
Opening reception: Monday October 28, 2013 at 7:00PM – join us for light refreshments and a special performance by musical talent Lacey Hill.
---
Weaving Together Stories
August 12 – October 13, 2013
Basketry is one of the earliest forms of human craftsmanship. Organic in nature, this art form relies on the availability of materials indigenous to one's area. For the Woodland people, basketry had a utilitarian function as a necessity for gathering, storing, and carrying food.
From an engineering perspective, basketry is seen as sequential through the use of numbering and patterning. From an artisan perspective, it is knowing what material works best, and the method for creating purposeful albeit aesthetically pleasing containers.
Post-contact, basketry became a revenue generator wherein there was a high demand for First Nations basketry and other traditional creations. Designing baskets became a highly attractive art form, where stories were woven, shaped, and immortalized for cultural perpetuity.
Finding an Ogwehonweh basket weaver today can be challenging. The artistry still exists, but there are very few who specialize in this field as an occupation. Basketry is a rather time consuming process, with multiple steps from beginning to end.
Not only are there human factors to consider within the future of basketry, but there are also commercial enterprises, as well as environmental considerations that threaten the viability of this industry.
---
Beyond The Bars
July 26 – October 13, 2013
Woodland Cultural Centre has created a wonderful exhibition from sixty-six pieces of artwork and 123 prints, produced by former First Nations inmates. These pieces have been in storage for more than 10 years. Woodland Cultural Centre has put these amazing art pieces on exhibition and all are available for sale. All proceeds collected will be used to purchase cultural literature for First Nations inmates and arts programming at the Woodland Cultural Centre.
---
First Nations Art, 2013
May 24 – July 26, 2013
For thirty-eight years the Woodland Cultural Centre has been presenting First Nations Art, this pivotal exhibition has brought artists together from all across Turtle Island featuring new works in many varied mediums. This year a total of thirty-four artists have submitted for First Nations Art, with a total of sixty works on display until July 26, 2013.
---
Spirit Of Community
January 21 – March 31, 2013
Exploring the heart of Six Nations, this exciting exhibit examines the community, people, places and landscape that make it so unique. Featured in this exhibit are some of the finest examples from Woodland's historical photography archive, as well as contemporary works by artists Anthony Henhawk Jr, Patricia Hess, Brenda Mitten, and Shelley Niro. The contemporary and historical material work together to create an engaging look at the Six Nations community.
War Of 1812
October 29 – Dec 24, 2012
This exhibit will expose the Canadian public to the unknown contributions and the very role the Haudenosaunee warriors played in the War of 1812. The contribution by the Haudenosaunee warriors both in the United States and in Canada is an unheard and unacknowledged history that caused great strife within the Six Nations Confederacy. The exhibit will explore the correspondences between the various Haudenosaunee communities in the U.S. and in Canada who were involved in the War of 1812 by their respective allies. Open until December 24, 2012.
---
Teiotiokwaonháston/Deyodyogwaǫháhs:dǫh (Encircles Everything)
August 10 – December 24, 2012
Elizabeth Doxtater's Teiotiokwaonháston/Deyodyogwaǫháhs:dǫh (Encircles Everything) has been extended until December 24, 2012.
It is with great honour that the Woodland Cultural Centre has extended the display of Teiotiokwaonháston/Deyodyogwaǫháhs:dǫh (Encircles Everything). This remarkable work depicts the formation of the Haudenosuanee confederacy, including all the clan mothers, chiefs, Jigonsaseh and the Peacemaker, also depicted is a white pine and eagle completely rendered in corn husk. Garnering a great deal of community interest, many of our recent visitors have come to Woodland over the past few months with the sole intent to see Elizabeth's piece.
Cornhusk is a pure catalyst to our ancestors. Working with corn husk is like reaching back and creating something that looks, smells, and feels like something from very close to the times of our ancient ancestors. – Elizabeth Doxtater
Earthly Connections
A group exhibition bringing together three local Six Nations artists that encapsulate an element of Haudenosaunee worldviews, a nod to the past, and homage to the materials. Currently on permanent display in the sculptural garden at the Woodland Cultural Centre.
Earthly Connections is generously funded by the Ontario Arts Council.