Woodland Cultural Centre Remembers Indigenous Veterans:
Hadri:yohs (Warrior)
We, the people of Tyendinaga, Wahta, and Six Nations of the Grand River, are the descendants of warriors. Warriors were honoured and valued members of our society; instrumental in maintaining the Great Peace and protecting the Confederacy. In keeping with the traditions of our ancestors, the staff of the Woodland Cultural Centre have shared our remembrances of the warriors we descend from and the respect we have for these Haudenosaunee men and women. We honour all Haudenosaunee warriors – names known and unknown.
Janis Monture Remembers
This Remembrance Day I remember Charlotte Edith Anderson Monture, who served in World War One as a nurse in the American Expeditionary Force in France. Growing up she was my paternal great-grandmother who I was fortunate to have in my life. I knew that she was the first Indigenous woman to become a nurse in Canada. Despite not being allowed to get her nursing degree in Canada at the time, she crossed over the border to the United States to attain her nursing degree in New Rochelle, New York. It was while she was in the United States, that she volunteered to join the army nurse corps where she served at Base Hospital 23 in Vittel, France where she treated wounded soldiers. Much of her time overseas she kept a diary where she recorded her experience as a nurse.
This Remembrance Day I also remember John A. Seymour, who served in World War Two as an Automobile Serviceman with the Army of the United States. My maternal grandfather, before enlisting was attending Tri-State College in Angola, Indiana to study Chemical Engineering. However, in April 1945 he joined the army. My grandfather during his two years of serving spent time in the Aleutian Islands and received an Asiatic Pacific Campaign Medal.
Jessie Hill Remembers
My grandfather, Clarence Cecil "Doc" Hill, was born on May 25, 1916. He served as part of the Royal Canadian Air Force in World War II. When he returned home, he continued his life as a lacrosse player, an ironworker, and a farmer, spending a brief period employed by the Secretary of Indian War Veterans. He eventually married my grandmother, Elsie Merritt, and had nine children. He passed away at St. Joseph's Hospital in Brantford, on August 13, 1981.
I did not know my grandfather, as he had passed away before I was ever born. I never thought to ask my grandmother about him. As a child, you believe yourself and the people around you to be immortal, that you will always have time to ask about them. What we take for granted is that the people you want to know more about must have talked about their experiences – and when I asked my mother and her siblings, they reported that grandfather was such a person who did not talk about his time in service – but in their research, we were able to piece together some of the information about his time at war.
Clarence Cecil Hill enlisted in the Royal Canadian Airforce on July 20, 1943. His Service Number was R263343. There is what appears to be conflicting information at this point, as there appears to be three different spaces he conducted his training in – letters indicate he was positioned to do his training in Mount Pleasant, PEI, but a copy of his regulation notebook indicates that he would have done his basic training in Newmarket, Ontario, while a mess hall membership card says he would have trained at the No. 3 Aircrew Graduate Training School, at Trois-Rivieres, Quebec. It was likely all three, with the basic training of 14 weeks in Newmarket, intense physical training for three weeks in Quebec, and potentially undergoing further training at RCAF Station Mount Pleasant, No.10 Bombing and Gunnery School.
As this training would indicate, he flew in bomber aircraft; his role was that of a tail gunner. He conducted his tour as part of the No 158 Squadron RAF (41 Base), stationed at RAF Lissett, Yorkshire, England. He was one of eight crew members at the time. Although he had been trained using a Lancaster Bomber, throughout his career, he actually flew in a Handley Page Halifax.
Based on the dates of the flight and the records of his squadron, it's possible that he flew as part of the Normandy Invasions, but we know the majority of his tour was spent flying as part of a strategic bomber force. Throughout his tour, he logged a combined total of 361 hours and 18 minutes in flight – we know this because we are lucky enough to have his flight logbook. Those hours were almost evenly split between day and night flight, with 173 hours and 48 minutes in the day, and the remaining 187 hours and 30 minutes flying at night. His last flight was recorded on March 11, 1945; when he was discharged from service, he was ranked as a Sergeant.
A tail gunner's responsibilities were primarily those of lookouts in defence of not only their own aircraft but those of the aircrafts flying above them. As such, it was an incredibly dangerous position to be in, with roughly 20,000 tail gunners losing their lives throughout WW2. On top of that pressure was the reality that the gunner's position was a very small space, far from the rest of the crew, and having to be constantly alert and coherent to communicate with their pilot for evasive action – or if need be, to attack. Knowing how high the risk of fatality was and how lonely it could be, I suppose it is not that difficult to understand why my grandfather did not talk about his time at war often.
My grandfather was not the only member of his family who served in World War 2. His younger sister, Ethel Kathleen Hill (1925-1999), served as a Leading Aircraftwoman (LAW) for the R.C.A.F. To the best of my knowledge, she stayed stationed in Canada throughout her service and was focused on administrative/clerical work. I am still researching the work Aunt Ethel would have done, as the role of women in the Second World War began limited to administrative and clerical, but throughout the war would evolve to include aircraft mechanics, parachute riggers, and air traffic controllers, etc.
Grampa's older brother, James William "Willie" Hill (1913-2001), was a Leading Aircraftman (LAC). Uncle Willie served as a radio operator/navigator on both the East and West coasts during his tour, with the task of looking for submarines from enemy forces. After his time in service, he returned to a life of farming and eventually worked for Indian Affairs for 25 years, then an additional 21 years working at Styres Funeral Home.
Grandpa's brothers-in-law also served in the Second World War. Before joining the war, Lorne Wellington Merritt was a truck driver, joining the army at the age of 19 on July 30, 1940. During his brief time in the service, he was a gunner in the Royal Canadian Artillery, serving with the "A" troop of the 37th Battery, R.C.A., C.A.S.F. Uncle Lorne (service #H/54644) is said to have died from a bursting appendicitis in the General Hospital in Pembroke, passing away on November 27, 1940.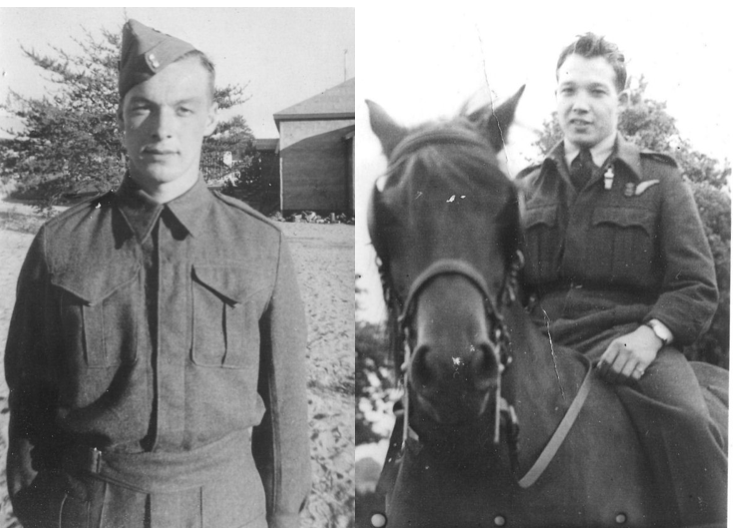 My grandmother's twin brother, Cecil Glen Merritt (service number #R218590), enlisted in the R.C.A.F. in 1942 – he graduated from his training as an Air Gunner from Mt. Joli, Quebec, in 1943. As a gunner, he flew with the #426 Thunderbird Squadron and completed 29 flights over enemy territory. He was reported missing and presumed dead in 1944 – it was later confirmed that he had died in action July 28/29, 1944, as his crew's plane was shot down by a night-fighter. Like his brother, Uncle Glen was only 19 years old when he died.
Tara and Kourtney Froman Remember
We are fortunate to be able to honour living veterans in our family.
Our father, Elwood W. Froman served two tours of duty in the United States Navy during the Vietnam War, 1968-1970. Stationed in the port city of Da Nang, Dad was on riverboat patrol of the Hau River in South Vietnam. Each seaman on the riverboat had to be able to do any of the duties the patrol required but Dad preferred being assigned to gunner duty. Discharged in 1970 as an E3 Seaman, Dad went on to ironwork out of Local 736. Now a proud To:tah of eight, he is active in the Six Nations Veterans Association and can be seen marching at Six Nations' annual Veterans' Day service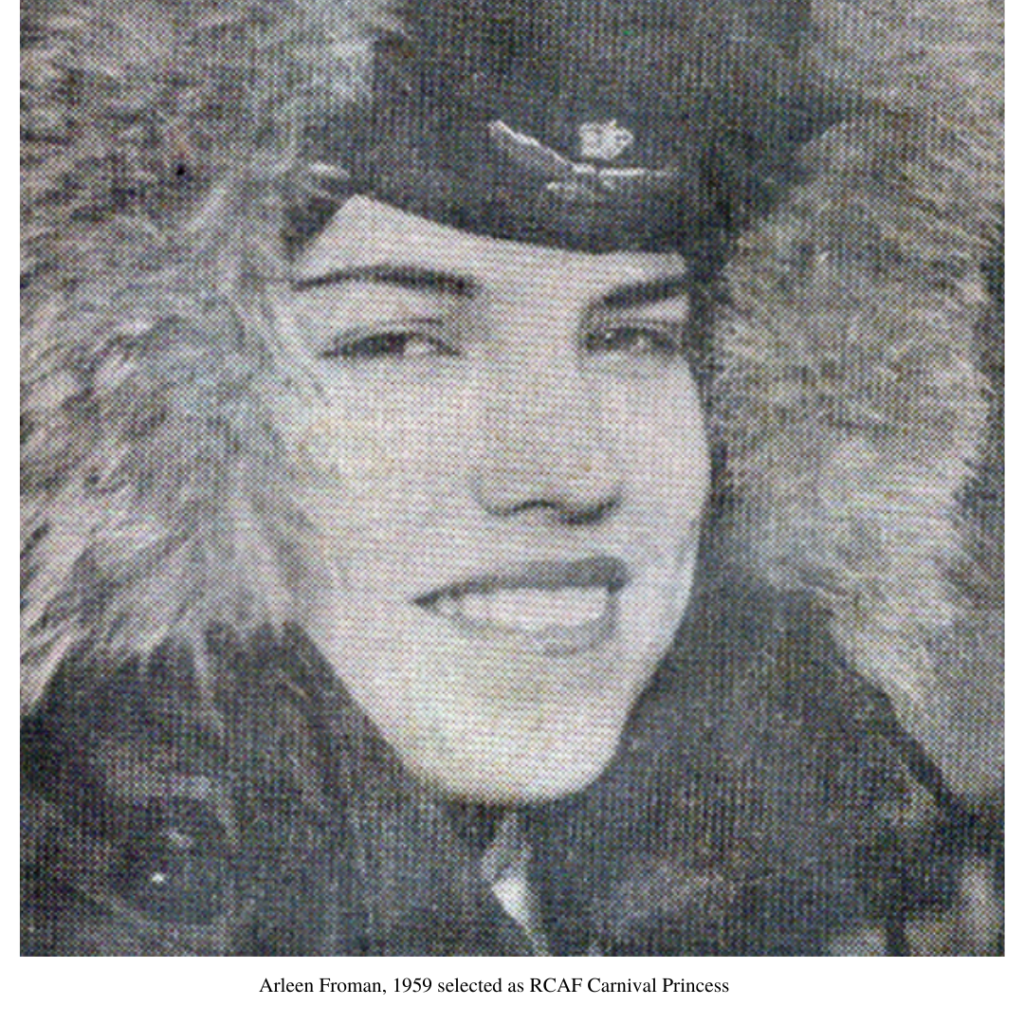 Arleen Froman (now Morrow), Elwood's older sister, enlisted in the Royal Canadian Air Force in 1959. A Leading Airwoman (LAW), "Enie" specialized as a fighter control operator. Our Aunt was stationed at RCAF Clinton. She continues to proudly serve in the various roles she assumes at the Royal Canadian Legion, Branch 616 near Ottawa.
Mika Patterson Remembers
This Remembrance Day, like all those previous, I think of my Great-Great Uncle, Corporal Welby Lloyd Patterson. Though I never got the chance to meet him, his name and contributions to the war effort have always been a constant in my life. One of my earliest memories of Remembrance Day was a history lesson about the Second World War from my Dad. He showed me Welby's picture and a short biography in the Forgotten Soldiers book by Fred Gaffen. My Dad made a point to mention how significant the efforts of soldiers from the Six Nations have been in major world conflicts, such as the First and Second World Wars. From that point on, I always made sure to commemorate Welby in school and in conversations about Remembrance Day. As I've grown older and conducted research of my own, I've learned more about the line of warriors Welby comes from.
Welby (B 139427) was born on June 10, 1922, on Six Nations Reserve to Thomas and Sarah Patterson. He was described as well-built and active; he played baseball, lacrosse, and hockey. Welby was also an avid hunter and worked on his family's farm. Welby, along with many other Six Nations soldiers who enlisted in the Second World War, came from a long line of military participants. For Welby, his Father Thomas Patterson enlisted with the 114th Battalion during the First World War. Upon Welby's enlistment, it is noted that his older brother Wesley Arnold Patterson was already overseas. Despite this known fact, I, unfortunately, know very little about Wesley's efforts. As an adult, Welby began his career as an ironworker, working in Buffalo, New York; however, during enlistment, he was cited saying he wished to return to farming. Welby's story is both worth celebrating and remembering solemnly. He was educated at the Mohawk Institute Residential School and only a few short years later enlisted with the Argyll and Sutherland Highlanders of Canada (Princess Louise's). Though Welby's contributions are well documented, I am often reminded of the life cut short. I'm sure other family members wonder what life would have looked like for him upon his return home. Unfortunately, at the tender age of 22, he died in action, halting the assuredly bright future ahead of him. His biography in the Album of Honour for Brant County: World War II 1939-1945 reads, "Cpl. Welby Lloyd Patterson, MM., son of Mr. Thomas Patterson, Ohsweken, lost his life on April 14, 1945, in Friesoythe, Germany, serving with the R.C.A.M.C., after a distinguished and gallant career as a soldier. He had been awarded the Military Medal for his heroism […]" The passage goes on to describe the actions that led to his nomination, stating, "on the night of September 9, 1944, an infantry company was among other sub-units of a Canadian infantry brigade which had successfully set a small bridgehead over the canal at Moerbrugge, Belgium. The enemy counter-attacked in great strength, and, acting on his own initiative, Cpl. Patterson worked his way through the intense mortar and machine gun fire to a position behind two stumps, where, for three hours, he fired with such coolness and devastating accuracy that the enemy was unable to effectively counter-attack the main position. The courage, initiative and complete disregard for personal safety shown by Cpl. Patterson was undoubtedly responsible for the defeat of repeated enemy thrusts at his unit's position." Welby is believed to be the first member of the Six Nations to receive a Military Medal during the Second World War.
As a continuation to Welby's history, it is worth quickly noting his father (as not much is known), and Thomas Patterson's (Regimental No. 739262) contributions to the First World War. Thomas was born on September 15, 1883, to Samson and Phoebe Patterson. He grew up on Six Nations Reserve and listed his occupation as a farmer. Thomas enlisted with the 114th Battalion in 1916, noting his previous service with the 37th Haldimand Rifles. He was 32 on the date of enlistment and had five children with his wife Sarah; upon his return, he would have five more children. In his military file, he is noted to have been transferred to the 107th Battalion, a converted pioneering battalion that served in France and Belgium. According to Thomas' active service forms, he spent time in England, France, and Belgium, in a presumably labour-intensive role. He was demobilized in May of 1919 and returned home to his family. Thomas died in February of 1951, at the age of 68.
Share This Story!