GivingTuesday is a global movement for giving and volunteering, taking place each year after Black Friday.
The "Opening day of the giving season," it's a time when charities, companies and individuals join together and rally for worthy causes. In the same way that retailers take part in Black Friday, the giving community comes together for GivingTuesday.
Watch this Quick Video to Learn how Canadians are Getting Involved with Giving Tuesday
How could your community get involved with Giving Tuesday?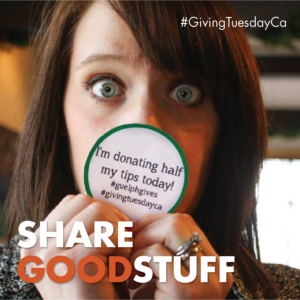 GivingTuesday harnesses the potential of social media and the generosity of people around the world to bring about real change in their communities; it provides a platform for them to encourage the donation of time, resources and talents to address local community challenges. It also brings together the collective power of a unique blend of partners – nonprofits,
civic organizations, businesses and corporations, as well as families and individuals – to encourage and amplify small acts of kindness. Across Canada and around the world, GivingTuesday unites communities by sharing our capacity to care for and empower one another.
This year, 2019, Giving Tuesday falls on December 3 the Tuesday after Black Friday and Cyber Monday.
Last year 6500 Charities in Canada participated in Giving Tuesday and Millions of Canadians did GOOD STUFF. This year, with your help and the support of communities and Influencers across the country, who thinks we can do some pretty Good Stuff?
Giving Tuesday is a great mindset shift from the commercialism of Black Friday and Cyber Monday, to one of philanthropy and community.
The countdown is on… and our Save the Evidence Team wants to help you to plan your #GivingTuesday events.
Woodland Cultural Centre has set a Goal to save 1000 Bricks on #GivingTuesdayCA (Dec 3)
Woodland Cultural Centre has put the call out to individuals, schools, businesses, and organizations to help them fund the work necessary to preserve this significant space. Many Survivors have carved their names, dates of attendance, the number attributed to them at the school, and many messages into these bricks. 
"Every single brick has a story," says Carley Gallant-Jenkins, the Save the Evidence Coordinator. 
As a further incentive, an anonymous donor in the community has pledged to match all donations received this Giving Tuesday, BRICK FOR BRICK, up to $5000. 
3 Ways You Can Help
Make a personal donation on #GivingTuesdayCA (Dec 3) at the Museum or online and Save as many Bricks as you can!

https://woodlandculturalcentre.ca/donate

 

Share our campaign with your networks. Social Media Graphics and Links Provided! Email marketing@woodlandculturalcentre.ca to get access)

Make a PLEDGE to "Do Good" on #GivingTuesdayCA (Dec 3) in the name of WCC and we are entered to win an extra $5000 towards the project. Pledge online at https://woodlandculturalcentre.ca/pledge
SPREAD THE WORD ABOUT #GIVINGTUESDAYCA and support our Goal to Save 1000 Bricks in one day!
The countdown is on!
Do you have a fundraising idea? Here at Woodland Cultural Centre, we'd love to help! We can share some success stories from some of our top Donors, help with the planning and execution, and also give you lots of exposure on our Social Media sites!
Entire cities are getting on board with the Giving Tuesday. One example is the City of Guelph, Guelph has announced that the entire city will be supporting #GivingTuesdayCa this year. Corporations, Business, Schools, and Individuals are getting their plans started to make a big impact in communities around Canada. This is an amazing initiative to "DO GOOD STUFF".
Who is participating in Giving Tuesday in Brantford? Click here
"We have two days that are good for the economy. Now we have a day that is good for the community too." 
Woodland Cultural Centre, is a proud partner of #GivingTuesdayCa and our Save the Evidence Campaign still needs community support to complete the restoration project of the former Mohawk Institute Residential School. Your donations on Dec 3 are going to bring us into the final Phase of the project, and that much closer to opening the building as a culturally interpretive space and a sign of Indigenous resiliency.
Want to learn more about the Save the Evidence campaign? Check out some fundraising ideas, the significance of the project, and where your donations actually go by reading about the Campaign HERE.
Share This Story!