The Woodland Cultural Centre is inviting the community out to their first social distanced outdoor concert, showcasing Nationally renowned Indigenous Singer Songwriters from across Turtle Island on September 19, 2020 from 7-10PM.
What is Unplugged?
Unplugged is a socially distanced concert as part of the Tehonkieron:nions (They are Entertaining) performing art series.  This acoustic concert is highlighting the female voices of singer/songwriters: Lacey Hill (Six Nations), Biine Elijah (Oneida), Ila Barker (Manitoba) and Beatrice Deer (Quebec).  Due to travel restrictions the performances of Beatrice Deer and Ila Barker will be screened instead of in-person performances. Hosted by Santee Smith.
Performances will take place on the front steps of the former Mohawk Institute Residential School and symbolize the resilience of Indigenous culture, creativity and expression. Bring your blanket or lawn chair and enjoy the evening from socially distanced spaces as marked.
Due to STAGE 2.5 COVID Precautions we are only able to welcome 40 guests on site. We ask, if you did not get a ticket to please be patient as our team will be recording and releasing the recordings at a later date. 
If you do have a ticket, please arrive early and on time and maintain social distancing practices while on site.
Hosted by Santee Smith:
Founding and Managing Artistic Director of Kaha:wi Dance Theatre; Chancellor  McMaster University; Artist; Guest Speaker.  Santee Smith is an internationally recognized leader in the performing arts, a multidisciplinary artist and producer from the Kahnyen'kehàka (Mohawk) Nation, Turtle Clan from Six Nations of the Grand River, Ontario. She is one of Canada's leading dance artists, and holds McMaster University degrees in Physical Education and Psychology along with a Master of Arts in Dance from York University.  Recovering from two broken legs, she completed six years of training at Canada's National Ballet School, undertook theatre training and earned her degrees. She returned to dance in 1996 as a choreographer and dedicated six years to create and produce her first dance work, Kaha:wi, a family creation story.
In 2005, she founded the Kaha:wi Dance Theatre with a vision to explore the intersection of Indigenous and new performance, international Indigenous collaborations and training. Through her research and creative practise, she is a strong voice for Indigenous dramaturgy, process and advocacy. Santee will also be showcasing her brand new piece Continuance as a drive in light production at the front of the former Mohawk Institute Residential School October 3, 2020 at 9PM. See here for more details about Continuance
Live Performances:
Lacey Hill – Six Nations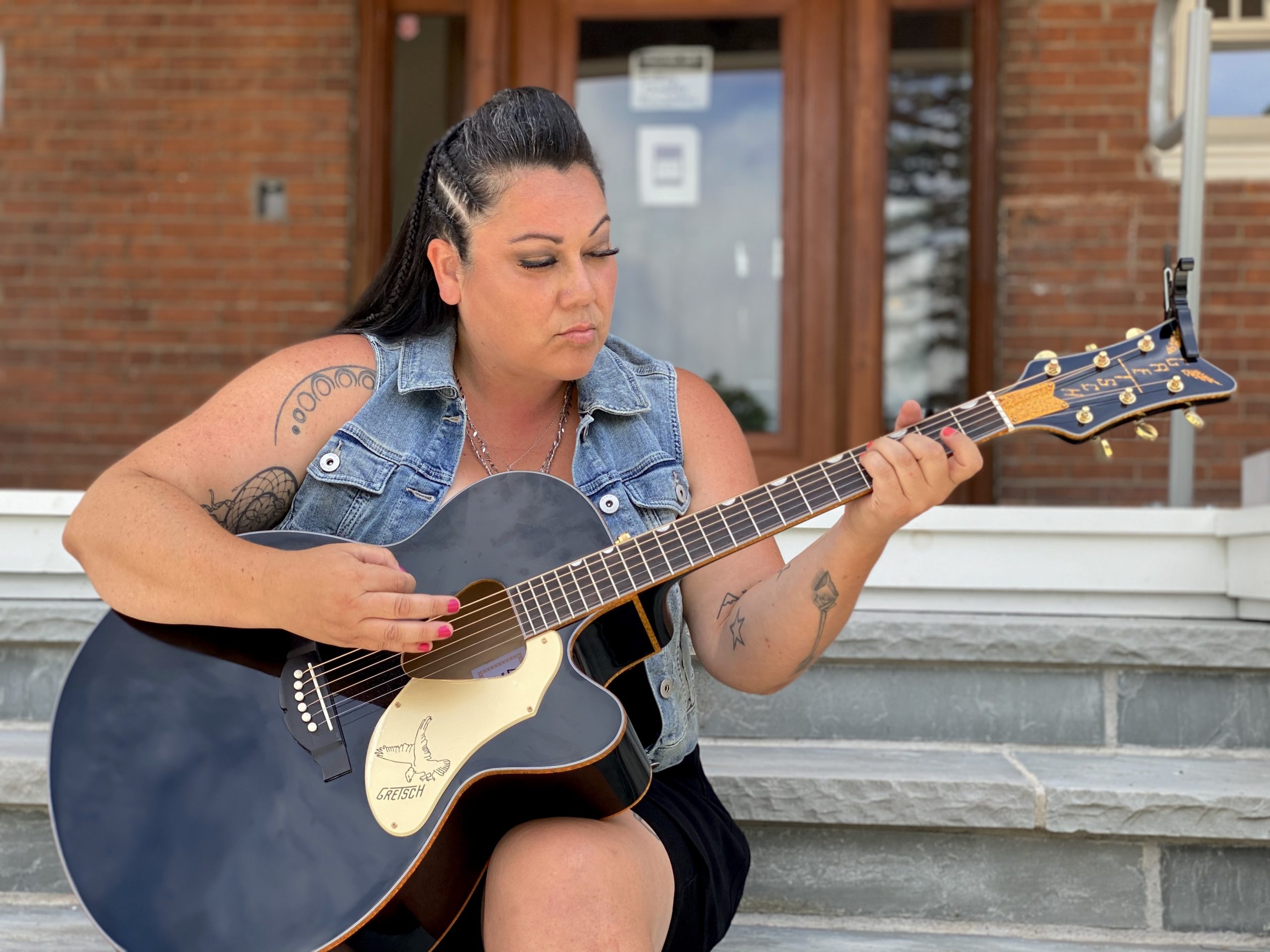 Have you heard Lacey? Watch as she takes the stage. Isn't she gorgeous? She sits on her stool, or chair, or on the edge of the stage, and her long hair slides down her shoulder. The guitar settles comfortable in her hold as she plucks a few strings and tunes it to her liking. Then she strums. Her music is set on fire by her distinct voice. You keep watching her. The vocals are delicate, yet powerful. She makes her guitar sing too. One song is happy. Another is sad. Her third is jealous and spiteful. Now you're watching and listening. Each one, you find, is stuffed with honesty. Each one, you find, rings with the energy Lacey used to create something wonderful from pain. Each one, you find, fills you with something you dismiss as deja vu.
The melodies wash over you, her lyrics, carried by her voice, weave something unspeakable in and outside of her guitar playing. She's something. You keep listening and you're ecstatic and touched and haunted all at once.
The last notes fade from the air. She stands up. She smiles. "Thank you."
Biine Elijah – Onieda Nation of the Thames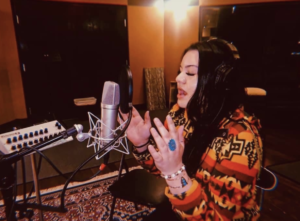 Biine 'Kwe is a member of the contemporary singing group "Hatiyo" (The Good Voice). As an artist, Biine creates music in Oneida for performance but also to enrich language revitalization through song. Her previous work included songwriting workshops for youth programming at the Oneida Community Centre.
As the Youth Project Coordinator Biine had the opportunity to produce content for the Indigenous Higher Education Pathway program – Indigenous Storytelling. Which included developing video content and a singing circle for students enrolled in the course. She has had the opportunity to present at multiple events including vigils for Missing and Murdered Indigenous Women and Girls, Residential School survivors, Stop The Framework: Ottawa, Powwow's and many festivals in the Ontario region.
Distance Streamed Performances:
Ila Barker – Manitoba
With soul and voice well beyond her years, folk artist Ila Barker captures audiences with her sweet melodies and dynamic presence. Ila is of mixed ojibwe and settler heritage with roots running deep in the prairies, bringing tones of rich history and texture to her craft.
Fusing authentic and timeless notes this singer songwriter will surely connect and leave a lasting impression. Ila has brought her craft to an array festivals and stages including the Regina Folk Festival, the Winnipeg Folk Festival and the sākihiwē festival.
In the summer of 2019 Ila opened for Jeremy Dutcher at the Indian River Festival. In February 2020 Ila released the "Let Go" single, a collaboration with UK based artist Milan André that was recorded off the floor in one take in the northern Cree Nation of Nemaska, Quebec. She is also working on finalizing album plans for her highly anticipated follow-up EP to be released fall of 2020.
Beatrice Deer – Quebec
Canadian Aboriginal Music Award-winning singer-songwriter Beatrice Deer hails from Nunavik. Half-Inuk and half-Mohawk, Deer left her small hometown of Quaqtaq, Quebec (population: 376) in 2007 for three life-changing reasons: 
1) She moved to Montreal to get serious about making music—and it worked. Deer has now released five albums, each deepening her trademark blend of traditional Inuit throat singing with contemporary indie rock. My All to You, her fifth record, marks a significant milestone in the history of Inuindie music (a genre Deer pioneered), as this is the first time she composed all the songs' instrumentation as well as the lyrics. Her themes range from classical Inuit folk tales and legends to the importance of finding understanding and the search for meaning within personal growth. Her songs are especially beloved in Arctic Canada, where she tours frequently and where audiences sing along to her songs during concerts. She sings in three languages: Inuktitut, English, and French. Her collaborators include luminaries from the likes of Land of Talk, The Barr Brothers, Stars, Timber Timbre, Bell Orchestre, Suuns, and executive producer Michael Felber.
2) The second reason Deer left the north was to pursue higher education—and to ensure that her two daughters (now aged 16 and 18) also had access to proper schooling as well. Deer's artistic experience manifests itself in countless ways: she has been everything from a book designer to an actor to a model. A highly regarded seamstress, she's also the voice of safety briefings on First Air and can be heard on children's TV shows. But above all, her primary medium is music, both as a singer, and now, with My All to You, as a songwriter as well. The education she sought in Montreal manifests itself in this latest release. It's an album of maturity, of hard-fought wisdom, and of spiritual depth. 
3) The final reason Deer came to Montreal was to get therapy. "My All to You is all about owning up," she explains. "It's about reconciliation with your self—which is the hardest thing to do. And I mean that on a personal level as well as on a national level." At this moment in the country's history, when reconciliation between Canadians and First Peoples has finally become a central issue, Deer has an important message to share: she believes that reconciliation begins with each of us. "You can't be a change maker if you haven't gone through it yourself," she says. "You can't help if you haven't gone through healing yourself. It's a lot easier to forgive other people than it is to forgive yourself. To get to where I am today I had to forgive myself many, many times. I still work on it." 
As a role model for her community and an advocate for healthy living, Deer is often asked to do speaking engagements. Her primary message is that each of us must take control of our own life. "Nobody else can do it for you," she insists. "You can't change what happened. You can only change how you deal with it." The starting point for her latest album was a desire to relive the moment in her own life when she decided to transform her outlook. "I'd struggled for many years, in many ways—until I realized the change had to come from me," Deer says. "I know that now that I'm not in constant pain anymore. I can finally perceive things properly. And I want to use that to help others. Music is such an effective way to help. It can be such a positive tool for empowerment."
Tickets to this Event are Sold Out and due to 2.5 Covid-19 Restrictions, social distancing protocols will be followed at the event.
---
Schedule of Events:
7:00PM – Opening Address
7:15PM – Biine 'Kwe Elijah: On-site Performance
7:50PM – ILA Barker: Distance Live Stream Performance
8:30PM – Lacey Hill: On-site Performance
9:20PM – Beatrice Deer: Distance Live Stream Performance
9:55PM – Closing Remarks
We ask that all audience members arrive approximately 30 minutes before the show starts so our Events Team can check you in, and lead you to your designated viewing "Pod" where you can set up your chairs and blankets. Seating will be based on first come first serve. Please keep your social distance from those outside of your family, dress appropriate for the weather, and enjoy the evening safely.
Share This Story!