Save The Evidence Supporters
The Woodland Cultural Centre would like to thank all of our donors for their contributions to the Save The Evidence campaign. Their support is instrumental in helping us to reach our goals.
A special thanks to the following donors who have made the Save the Evidence project possible.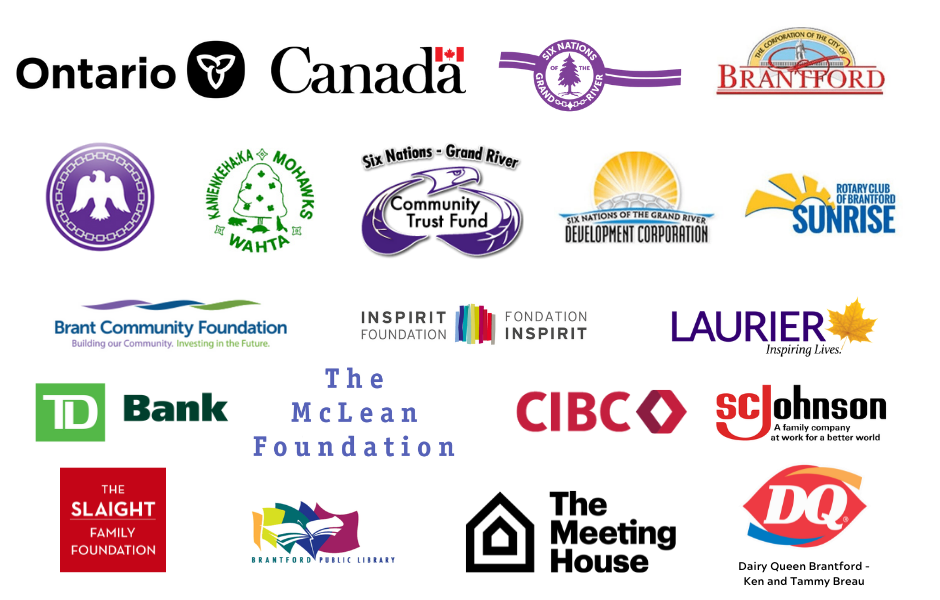 Community Supporters
Friends & Neighbours of Save the Evidence
Archaeological Research Associates Ltd
Mennonite Disaster Services
Mennonite Central Comity of Ontario
Wilfrid Laurier University
Sanderson Centre
Donors ($10,000+)
Brant Community Foundation
CIBC
Elementary Teachers Federation of Ontario
Inspirit Foundation
Jarislowsky Fraser Donor Advised Foundation
Laidlaw Foundation
Lisa Byers
The McConnell Foundation
McLean Foundation
Morenna M Edward
Rotary Club of Brantford Sunrise
TD Bank
Today's Family
100 Women Who Care Brantford
Donors ($5,000+)
Audrey S Hellyer Charitable Foundation
Brantford Native Housing
Donation Box
Grand Erie Elementary Teachers Federation of Ontario
Hamilton Community Foundation
Mary Lou & Robert Knechtel
Oakhill Marketplace
Patricia Slade
St Johns Church
William Boyle
Donors ($1,500+)
The ALBERT Group
Amber Wood
Benevity Community Impact Fund
Blessed Trinity Catholic Secondary School
CAAT Pension
Canadian Martyrs Catholic Elementary School
Carrie Dyck
Easterm Synod of the Evangelical Lutheran Church in Canada
Eastwood Collegiate Institute
EFTO Halton Local
Front Desk Donation
Hamilton Niagara Tax Services of Ontario
Joshua Creek Public School
Kate Taylor
Lamberton Public School – Toronto District School Board
Maplewood High School
Morag Johnston
PayPal Giving Fund
PayPal Giving Fund Canada
Pickering College
Quartek Group Inc.
Rotary Club of Toronto Philontrhopic
Sanderson Centre & XARA Choral Group
Sketchy Run Club
Stirling Avenue Mennonite Church
Tamara Shantz
Timothy Dresser
Donors ($500+)
Aecon Group Inc.
Alicia Hawkins
Alida Stevenson
Allen McMannis
All Saints Church
AMAPCEO
Andrew Fawcett
Angie Monture
Anne Marie Norris
Assumption College
Avondale United Church
Bank of Montreal
Barry Warner
Beth Becker
Brad Coburn
Brantford Labour Council
Brock University Student Liason
Cameron Heights Collegiate Institute
CAMH
Catherine Hunt
Cheryl Antoski
City of Toronto – Legal Services Division
Community Justice Initiatives of Waterloo Region
Daphne Payne
David E. Neumann
David W. Wilson Manufacturing Ltd
Derek Hall
Diane Smith
Donation Box – Friends & Neighbours
Dreamcatcher Charitable Foundation
Dwayne Music Inc.
Earth Healing Garden & Retreat Centre – Tekaneren Production
Elementary Teachers of Ontario (REAPE)
Elementary Teachers Federations of Ontario – Forthill
Elementary Teachers Federations of Ontario – Halton Local
Elementary Teachers Federations of Ontario – Thames Valley Occasional Teachers
Elementary Teachers Federations of Ontario – Upper Grand Teachers Local
Emmanuel College Student Society
Enaahtig Healing Lodge and Learning Centre
Faith Howe
Gail Obediah
Gord Bouchard
The Gord Downie & Chanie Wenjack Fund
Grand River Insurance Brokers
H.B Beal Secondary School
Heidi Bohaker
Hillfield Strathallan College
IFE – Ride the Haldiman Tract Proceeds
Iroqrafts
James Dawson
Jane Aronson
Jane Bibby
Janice Lewis-Deeley
Janice Teichroeb
Jeff Rivera
Joanne Okimawininew Dallaire, Elder & Sr Advisor Indigenous Relations & Reconciliation, Ryerson University
John Goodyear & Leslie Chiswell
John Kittridge
Karen Robson
Katalin Ivanyi
Katherine Acheson
Katherine Williams
Keitha Keeshig-Tobias
Kelly Greene
Kerry Crosby
Kimberly Thomas Professional Corporation
Laura Banfield
Lawrence Park Collegiate Institute
Leslie MacFabe
Lisette Weber
Maddy Pillon
Margaret Avenue Public School
Marian and Frank O'Connor
Mark D'Souza
Martha MacNeil
Mary Ann Peters
McMaster University
Melanie Fernandez
Mennonite Central Committee Ontario
Mennonite Church Eastern Canada (Kitchener)
Michelle Craig
Ministry of Children and Youth Services
Ministry of Education – IN077-20/21
Moksha Yoga Hamilton
Monsignor Doyle Catholic Secondary School
The Mush Hole Burlington Performing Arts Centre Donation Box
Nancy Forde
Napanee District Secondary School
National Worship Conference of the Evangelical Lutheran Church in Canada
Nigel Scott
Onkwehonwe Festival Admission Donation Box
Ontario Arts Council – IN130-20/21
Our Lady of Mount Carmel CES
Peggy Hallman
Richard Merritt
Robert James
Robert Redhead
Robin McGauley
Rosary Spence
Ryan Prosser
Sandra Pereira
Sarah Head
Scott Miller
Seth Ratzlaff
Sharing Love in Mission Community of Christ
Sheila Perkin
Siobhan Senier
Six Nations of the Grand River Development Corporation Board of Directors
Six Nations Police
Stephanie Von Schilling
Steven Mac Isaac
St. Joseph's Healthcare Hamilton Renal Program – IN119-20/21
St. Joseph's Secondary School – Student Association
St. Michael Catholic Secondary School
Sun-Canadian Pipe Line Company Ltd.
Susan Butcher
Suzanne Glenn
Symcor
Tanya Richardson
Tarah Brookfield
Tasty Treats by Ty
TCMC English Congregation Donation Box
TCMC Mandarin Congregation Donation Box
Thank-a-Vet Luncheon c/o office of Dave Levac
Thomas Peace
Timmins Martelle Heritage Consultants Inc.
Tom Wilson
The United Church of Canada – Regions 7,8,9
United Way Greater Toronto
United Way Halton & Hamilton
Valarie Koziol
Wahta Mohawks
Waterloo Police
Welland Centennial Secondary School
Wellbeing Waterloo
Willem Bouma
Donors ($100+)
Abby Bushby
Abundance Canada
Achilles Gentle
Adam Mason
Adriane Pong
Adrienne Roberts
Alexandre Corriveau-Bourque
Alexa Momy
Alicia Salyi
Amanda Beers
Amos Key Jr
Amy Bell
Ana Badour
Anderson Therapy Services
Andrea Hall
Andrea Hyslop
Andrea Mckinney
Andrew DeWaard
Andrew Giguere
Andrew Houston
Anh Ngo
Anjie J. McNulty
Ann Decter
Anne-Marie Norris
Anne Richardson
Anne Walk
Annie Katzman
Annie Wang
Anny O'Neill-Reddin
Anthony Sweeney
Antica Productions
ARCH Meeting Donation Box
Avery Print
Baani Bhathal
Barb Thomas
Barbara and Rae Crossman
Barbara Baker
Barbara Fischer
Barbara Herring
Barbara Quinian
Barbara Ramsay
The Beaverton Inc.
Bell City Women's Probus Club
Benjamin Gross
Ben Robinson
Bernie Burnett
Bethany Cudmore
Beth Weintrop
Beverly A. Diamond
Big Brothers Big Sisters Grand Erie
B. Jean Sweeney
Blackjet Inc.
Bob Sherman
Bradley Clements
Braemar House School
Brantford Public Library
Brian and Elizabeth Moore
Brian D. Cochrane
Brian D. Moore
Brian Moore
Brian O'Rourke
Brian Sterenberg
Brian Wilker-Frey
Brit Ellis
Brittany Douglas
Brockenshire Lemiski
Bruce Millar
Bryan Adamczyk
Carla Snider
Carley Gallant
Carley Martin
Caroline Thomas
Catherine Astolfo
Catherine Caughell
Catherine Saunders
Catherine Wilson
Cathy Quinsey
Cecilia E Ratelle
Cecilia Mok
Cedarbrae Collegiate Institute
Chamber of Commerce – Business After Hours
Chaminade College School
CHAP Symposium
Charleen Jongejan Harder
Charlotte Innerd
Charlotte Jacobs
Charlotte Peters
Cheryl Merigold
Chris Black
Chris Gabriel
Chris Gismondi
Chris Herriotts
Chris Levett
Christ Church Flamborough
Christian Lisowsky
Christina Fernandez
Christina Laffin
Christine D Ewing-Weisz & Thomas Weisz
Christine Goossen
Christine Pisapia
Church of the Resurrection
Cindy Anderson
Cindy Fisher
Cineplex
CISSA at McMaster University
City of Kitchener
City of Toronto
Clare King
Code Red Entertainment
Colleen Bator
Colleen Cavanaugh
Corey Davis
Corporation of the City of Kitchener
Craig Rose
Crucible Crush Games
Daina Di Veto
Dale Pettit
Dana Zummach
Danielle Allen
Danielle Megaffin
Daniel Zomparelli
Dave Keats
David & Elfrieda Neumann
David MacPherson
David Marcus
David Marskell
David McFadden
David McKee
David Neuman
David Schultz
David Thompson
David Winterton
David Wonder
Deborah MacLatchy
Debra Handler
Delaware Nation Council
Denise McGuire
Derek Bond
Derek Hill
Diane Bomberry
Diane Branch
Diane C Kilby
Diane Labelle-Davey
Dianne Dance
Dianne Gilchrist
Don Anonymous
Don Armitage
Donna Gallagher
Donna Johnston
Douglas Buck
Doug Massey
Echo Womans Choir
Ed John & Wendy-Grant John
Edward Winter
E. Jean Terry
Elizabeth Elysee-Collen
Elizabeth Oldfield
Elizabeth Rennie
Elizabeth Thorsen
Elizabeth Underhill
Ellengate Public School
Ellen Glavin
Ellen Trudel
Ellen Warling
Ellie Clin
Emery Adult Learning Centre
Emily Jeffers
Emily Sutton
Erica Helder
Erika Shrestha
Erika Weinstein
Ernest C. Drury School
Ernst Wissel
Esther Willms
Ethel Gardiner Public School
Ethel M Moore
Eugene Kahgee
Eve Thomas
Faith Lutheran Church
Fausta Capogna
F.C. Moscall
Fiona Ritchie
First Unitarian Church – Collection
First Unitarian Church of Hamilton
Five Oaks
Florencia D
Friends and Neighbours Donation – Senator Dr. Mary Jane McCallum
Friends & Neighbours Group
Frontenac Public School
Gail R. Pool
Galafilm Productions (CNPH) Inc
Galt Collegiate Institute
Garry Flood
Garry Wasyliw
Gary Beemer
Gary Shinkel
Genuine & Leanne Lam
Geoff Travers
Ginette Andrews
Ginny Doctor
Goodminds.com
Gord Cumming
Gordon and Pat Cameron
Graham Bell-Victoria Public School
Grand River Conservation Authority
GSP Group Inc.
Guelph Humber – Donation Box
Gunn's Hill Artisan Cheese
Gwen Ament
Hamilton Association for Christian Education Inc.
Hamilton Christian Fellowship
Hannah Riddle
Hannora (Norrie) Froman
Heather Bigelow
Heather Buchansky
Heather Doyle
Heather Hollyer
Heather Rennalls
Heather Snyder
Heidi Bohaker
Helen Duplassie
Herb & Ginny Buckwalter
Hillcrest Community School
Holly Gibbs
Holly Tasker
Humber College / University of Guelph
Hydro One Networks – Benevity
Ian Fachie
Ingrid Mayrhofer
Intelliquest Canada Investigations
Iroqrafts
Iroquois Ridge High School
Jackson Leween
Jaclyn Kaller
Jacqueline Specht
James Kent
James & Nicole Osborne
James R. Shantz
James Smith
Jamie Zeppa
Jane Kerr-Wilson
Jane Reble
Jane Wedlock
Janet Dugan
Janet & Heather Hillen
Janet MacLeod
Janet Pounder
Janet Robinson
Janet Rogers
Janice Lambrakos
Janis Monture
Jasmine Wong
Jason-Nicole Osborne
Jay Dolmage
Jays Care Foundation
Jeffrey Muir
Jenna Goodhand
Jennifer Branch
Jennifer Huber
Jennifer Lyons
Jennifer Maus
Jennifer Nadeau
Jennifer Ruz
Jennifer Schinkel
Jessalyn King
Jessica Gaber
Jessica Lindsay Phillips
Jessica Powless
Jim Williams
Jinnean Barnard
Joan Millsap
Joanne Menchions
Jodi Tuckett
John & Elaine Weber
John David Beattie
John Goodyear
John Kmech
Jordan McJannet
Josée Pilon
Josie Winterfeld
Joyce Wand
Joy O'Donnell
Judah & Cheryl Oudshoorn
Judy Clarke
Judy Major-Girardin
Julia A McCrea
Julie Cordasco
Julie Friesen
Kahontakwas Diane Longboat
Karen Eade
Karen Mann
Karen Odegaard
Karen Williams
Katelyn Mather
Kate Richardson
Katherine Humphrys
Katherine Liu
Katherine Oxley
Kathryn McNulty
Kathryn Wilsom
Kathy Holmes
Kathy Shantz
Katie Nelson
Katlynn Record
Katrina Matthies
Katryn Pereira
Keith Clark
Kelley Jones
Kelly Boutsalis
Kelsi Salisbury
Ken Breau
Ken Burgess
Ken Putman
Kenneth Tsang
Kenneth Wilson
Kerri Sakamoto
Kim Nanticoke
Kim Prokopowich
Kim Uyede-Kai
Kindred Credit Union
Kitchissippi United Church
Kit Moore
Krista Carew
Krista Pedersen
Kristen Shute
Kristina Kuhnert
Kristin Biefer
Kristine Anderson
Kristy Deep
Kyra Clarkson
Lana Mulcaste
Larissa Neumann
Larry Stewart
Laura Cleghorn
Laura Kittridge
Laura Rogers
Laura Williams
Laura Zilney
Laurie McNelles
Laurie Monture
Lawrence Park Collegiate Institute
L Brian Moore
Leonardo DiVinci Academy
Leslie McSpadden
Leslie Morgan
Lianne Gagnon
Linda Ivan
Linda Parsons
Lindsay Grillet
Lindsey Arthur
Lindsey David
Lisa Byers
Lisa Duzzie-Browne
Lisa Johnson
Lisa Kuron
Lisa Savard-quong
Lisa Smook
Lisa Weaver
Liz Rabishaw
LODE Toronto
Lori McMaster
Lori Spadorcia
Lynn Donovan
Lynn Kobayashi
Lynn Shire
Lynn Wilson
Mackenzie-Kathrine Bodnar
Madison Miller
Magda Milosz
Malini Leahy
Mannheim Mennonite Church
Marcia and Larry Shantz
Marcus Chun
Margaret Avenue Public School
Margaret Fishbuch
Maria Minutillo
Mariel Robinson
Marie-Pier Champagne
Marilyn Berge
Marilyn Murray-Allison
Marion (Gigi) Shanks
Marissa Magneson
Mark Haslam
Mark Shantz
Marnie Niemi Hood
Marta Chudolinska
Mary Collier
Mary E Thompson
Mary Faugh
Mary Grant
Mary Jane Patterson
Maryka Omatsu
Mary Lewis
Mary Mae Schwartzentruber
Matt Goodman
Matt Kok
McCarthy Tetrault
McMaster University – Indigenous Studies
Meaghan Murphy
Melanie Madronic
Melissa Dent
Melissa Gismondi
Melvin & Patricia Webber
Mennonite St Jacobs Church
Mentor College OTS Outreach
Meredith Lucey-Weinhold
Michael Barrie
Michael Eames
Michael Parente
Michelle Bourgeois
Michelle Kidd
Michelle L. Christian
Michelle Purchase
Michelle van den Berg
Michelle West
Mike Brown
Mike Strathdee
Mim Harder
Miriam Spies
Mohammed Hashim
Monica E Bennett & William C. Johnston
Mother's Pizza Brantford
Nan Coolsma
Nancy A Kelly
Nancy Cooper
Nancy DePietro
Nancy Gahm
Natachia Bond
National Association of Japanese Canadians
Nation to Nation – The Indigenous Employee Network for the Ontario Public Service
Neighbourhood Legal Services of London
Nettltje Dykstra
Newsome Productions
Nicholas Teramura
Nicole Belanger
Nicole Drake
Nicole Greville
Nicole Reynolds
Nikolas Bennett
OAC Board of Directors
Oakville Probus
Oliver M. Smith Elementary School
Ontario Heritage Trust
Ontario Secondary School Teachers' Foundation
Ontario Trillium Foundation
Oshawa CACC
Paige Monck-Whipp
Pamela A. Thomson
Pat and Art Klassen
Patricia Kennedy
Patricia Miller
Patricia P. Woodburn
Paul Doughty
Pauline Martin
Paul Ivany
Paul Ray
Paul Totzke
The Peak Magazine
Penni O'Connor
Peter Sramek
Phil Gillies
Preetham Vishwanath
Pulp Figures/Crucible Crush
Pushpa Ramdas
Queen Street Yoga
Randall C. Mackenzie
Randall G. Keast
Raymond D'Astous
Rebecca Grimes
Rebecca Hearns
Rebecca MacDougall
Rebekah Ludolph
Reg Madison
Reina Neufeldt
Restyled Redesigned
Richard Auchland
Richard Goetze
Richard Lickers
Richard Merritt
Rita Rabcaniak
Roberta Reid
Robertson Reid
Robin McGill
Ronald Leduc
Ron Benner
Ron Duncan
Ron Levett
Ronna Bloom
Ron Rhodes
Rosemary Zehr
Rupert Duchesne
Russell Newsome
Ruth and Eric Hunsberger
Ruth Biderman
Ruth Frost
Ruth Gill
Ruth Ramer
Ruth Wright-Gedcke
R. Yonah Lavery-Yisraeli
Sabrina Wright
Sally Heit
Sally Palmer
Samah Daakour
Samantha Brownell
Samuel Steiner
Sara Brubacher
Sara Stratton
Sarah Ball
Sarah Clarke
Sarah Power
Sarah Rogers
Save Our Scruff Rehome & Rescue
Save The Evidence – CRA Employee Donation
Save The Evidence – Open Tour
Sayyia Jaffer
Scott Cressman
Seung Woo Paek
Shane Bauman
Shanna Braden
Shari Roberts
Sharon Monteiro
Sheila Anderson
Sheila Fernandez
Sheila Idoine
Shelagh Heeney
Sheri Longboat
Shiralee Hudson Hill
Sierra Barber
Silo Wireless
Simcoe County Elementary Occasional Teachers
Simon Thompson
Sir Wilfred Laurier Collegiate Institute
Sisterhood of St. John the Divine
Six Nations of the Grand River Ontario Works
Six Nations Police & Six Nations Police Commission
Six Nations Polytechnic
Soaring Spirit Festival Outreach
Southwood Secondary School
Stacey Loyer
Staff Outreach (Evan)
STE Tour
Stephanie Hernandez
Stephen Heeney
Stevensville Public School
St Jacobs Mennonite Church
St. Joseph Secondary School
St. Margeurite d'Youville Secondary School
St. Maria Goretti
Suddaby Public School
Survivors Gathering Donation Box
Susan Butcher
Susan Connell
Susan Dobie
Susan Elliott
Susan Glover
Susan Minsos
Susanna Kearsley
Susan Pfeiffer
Susan Rice
Susan Waterfield
Suzanne Athanasiou
Suzanne N Kightley
Suzie Miller
Tabitha Mui
Tamara Louks
Tammy Adkin
Tania Kerr
TAP Resources
Tara Hannah
Taylor Bradley
TCMC Cantonese Congregation
TDSB – Learning Centre 2 – Coaches
Temple Sinai Congregation of Toronto
Teresa Pollett
Terri Monture
Terry & Anne Robinson
THE MUSEUM
Therese Charbonneau
Third Age Learning – Guelph
Tim Dobbin
Tim Metzeger
Timothy Owen & Carrie Butcher
Timothy Wichert
Tobie Loukes
Tom Thomson Public School
Tony Monteiro
Toronto Chapter – National Association of Japanese Canadians
Toronto Public Library
Trillium Demonstration School
Trudy Nicks
Turtle Island News
Ursula Vielkind
Valerie Duchesneau
Vanessa McMackin
Virginia Bechtel
Virginia Torrance
Vivek Menon
Vivian Minden
Wallaceburg District Secondary School
Walter Mulkewich
Wanda Gordon
Wanda Nanibush
Wanner Mennonite Church
Waterdown District High School
Wendy Adema
Wendy Ng
Wendy Youens
Willowridge Community Services
Windsor Probation and Parole
WLU LSA & SCESA
WorkTango
Yens Pedersen
Yoshitaka Inoue
Yotakahron Jonathan