The History of Orange Shirt Day
Orange Shirt Day happens every year on September 30th. It began as a way to honour all of the Indigenous children that attended residential schools in Canada. It has since become an opportunity to educate and remember the tragedy of residential schools and the cruel circumstances that Indigenous children experienced.
Approximately 150,000 Indigenous children from all across the country during the 1860s to the 1970s were taken away from their homes, stripped of their language, families, and culture by these church-run schools in Canada in a failed attempt to assimilate them. 
Why is Orange Shirt Day in September?
Orange Shirt Day falls on September 30 as this is the time of year children were taken away to residential schools. Some of them returned home for the summers, but some had no other option but to stay there year round.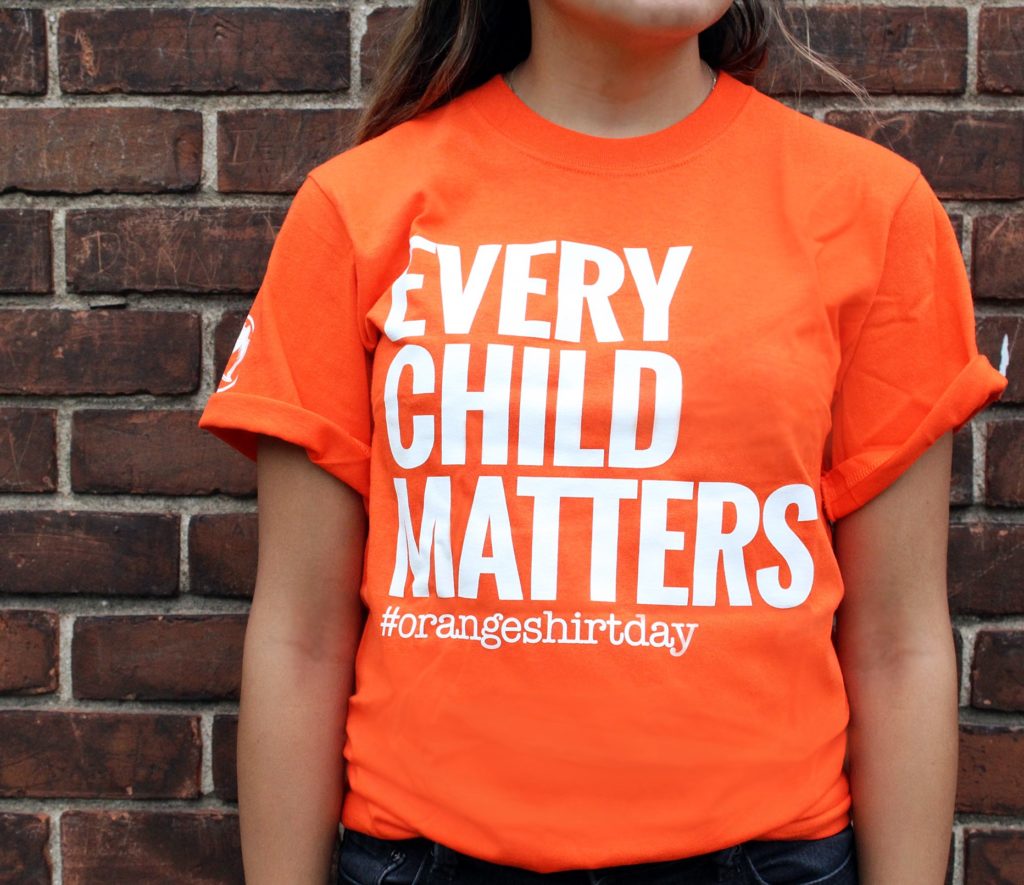 The colour Orange was chosen as a result of the experiences of residential school survivor, Phyllis Webstad. Phyllis was only 6 years old when she was sent to St Joseph's Mission residential school in British Columbia from 1973-1974. Her grandmother had taken her to the store and bought her a brand new shiny orange shirt to wear to school. Phyllis was so excited to wear it to school. However, when Phyllis arrived, she was stripped of her clothing and never saw her orange shirt again. She was neglected, abused, and made to feel like she didn't matter. She wasn't allowed to go home for 300 sleeps. She recalls that every child there was crying to go home, but nobody at the school truly cared for them. They were made to feel alone, worthless, and like nobody would save them. Phyllis says that the colour Orange now reminds her of that time in her life where her feelings didn't matter. Phyllis' story is a difficult one to hear, and unfortunately it is like many others that attended residential schools. 
Fortunately, Phyllis was able to return home to her grandmother after that year. As the Executive Director of the Orange Shirt Society, she now uses her story and platform to raise awareness about Orange Shirt Day, and turn the feeling of no one cares into healing and remembrance that every child matters.
The experiences at residential schools shaped the generations that have since come after them. While there is still a long way to go, Orange Shirt Day is a step towards recognition and healing for countless Indigenous people. 
Watch her video below.
Last year, Woodland Cultural Centre sold a record breaking amount of Orange Shirts as the surrounding community came together to acknowledge this day of remembrance. 
Orange Shirts will still be sold at Woodland Cultural Centre for $20, and all proceeds will go towards the Save the Evidence Campaign. Shirts can be shipped or scheduled for Curbside pick up this year.
Educational Teacher Resources for Orange Shirt Day
Woodland Cultural Centre will be offering Orange Shirt Day programming for schools, organizations, and family's at home digitally this year. These online events will span over Sept 29th, 2020 to Oct 4th, 2020. Make sure to Subscribe to our E-newsletter or follow us on Facebook to get the updates and registration announcement for this event.
In the meantime, check out these Free Educational Teachers Resources for Orange Shirt Day (including printable stickers!)
Share This Story!