Why Not Gift a Brick this year to everyone on your Holiday list and support the Save the Evidence Campaign?
The $5 Gift that keeps on Giving. This year at Woodland Cultural Centre, you can support the Save the Evidence Campaign by making a $5 Donation to "Gift a Brick" to a friend or family member. When you make a $5 Donation you will receive a replica cardboard brick from the former Mohawk Institute Residential School and your contribution will go towards the Save the Evidence Campaign.
This year on #GivingTuesdayCA December 3rd, 2019 we have set a goal to save 1000 bricks!
What is the Save the Evidence Campaign?
As one of only a handful of residential school buildings left still standing in Canada, the Mohawk Institute Indian Residential School is a physical reminder of the legacy of assimilation imposed upon First Nations children in Canada. More than 15,000 people visit the Mohawk Institute, as part of the Woodland Cultural Centre, every year. Visitors come to see not only what was once the longest-running residential school in Canada, but to experience the stories the building holds.
In 2013, major roof leaks caused significant and costly damage to the building. With such large costs to repair the building, the Woodland Cultural Centre conducted several Community Consultations to gauge the level of support from the community. The results were overwhelming, with more than 98% in support of the restoration of the Mohawk Institute.
The Save The Evidence fundraising campaign was launched in response. Its goal is to raise the necessary funds for repairs and renovations to ensure the physical evidence of the dark history of Residential Schools in Canada is never forgotten.
400,000 Bricks of the old Masonry needs replacing, and we want you to be a part of hitting this goal.
Some classrooms and local businesses are jumping on board with the "Gift a Brick" campaign and have goals to fill the walls of their hallways with bricks that their students have saved. We are looking for other organizations, schools, and groups to jump on board. If we work together as a community, that 400,000 brick goal can be achieved in no time!
How amazing would it be to see Brick Walls like this one popping up all over the country?
Thank you to everyone who has already supported the Save the Evidence campaign, this project wouldn't be possible without your contributions. Now is a chance to give a little piece of this history to others!
3 Ways You Can Help
 Make a personal donation at the Museum or online and Save as many Bricks as you can! Donate Online
 Help us by encouraging your staff, students, and customers to "Gift a Brick" at your locations and raise a Brick Wall for the campaign Download the Fundraising Letter Here
Spread the awareness by giving a Brick to someone in your community.
Interested in supporting the "Gift a Brick" campaign?
Gift a Brick at any of the following locations:
Woodland Cultural Centre
Good Friend's Sandwich Company
Oakhill Marketplace
Six Nations Tourism
Iroquois Ridge Highschool
Life Sustainers
---
More Gifts under $40 that support the "Save the Evidence" Campaign
Why not give a gift that has a deeper meaning and impact? All of the proceeds from our Online Store go towards the Save the Evidence Campaign. We have something for everyone, young and old. Knowing that your gift is going to help to preserve an important part of history, make both the Giver and the Receiver feel good about their presents!
Save the Evidence T-Shirts (Black or White)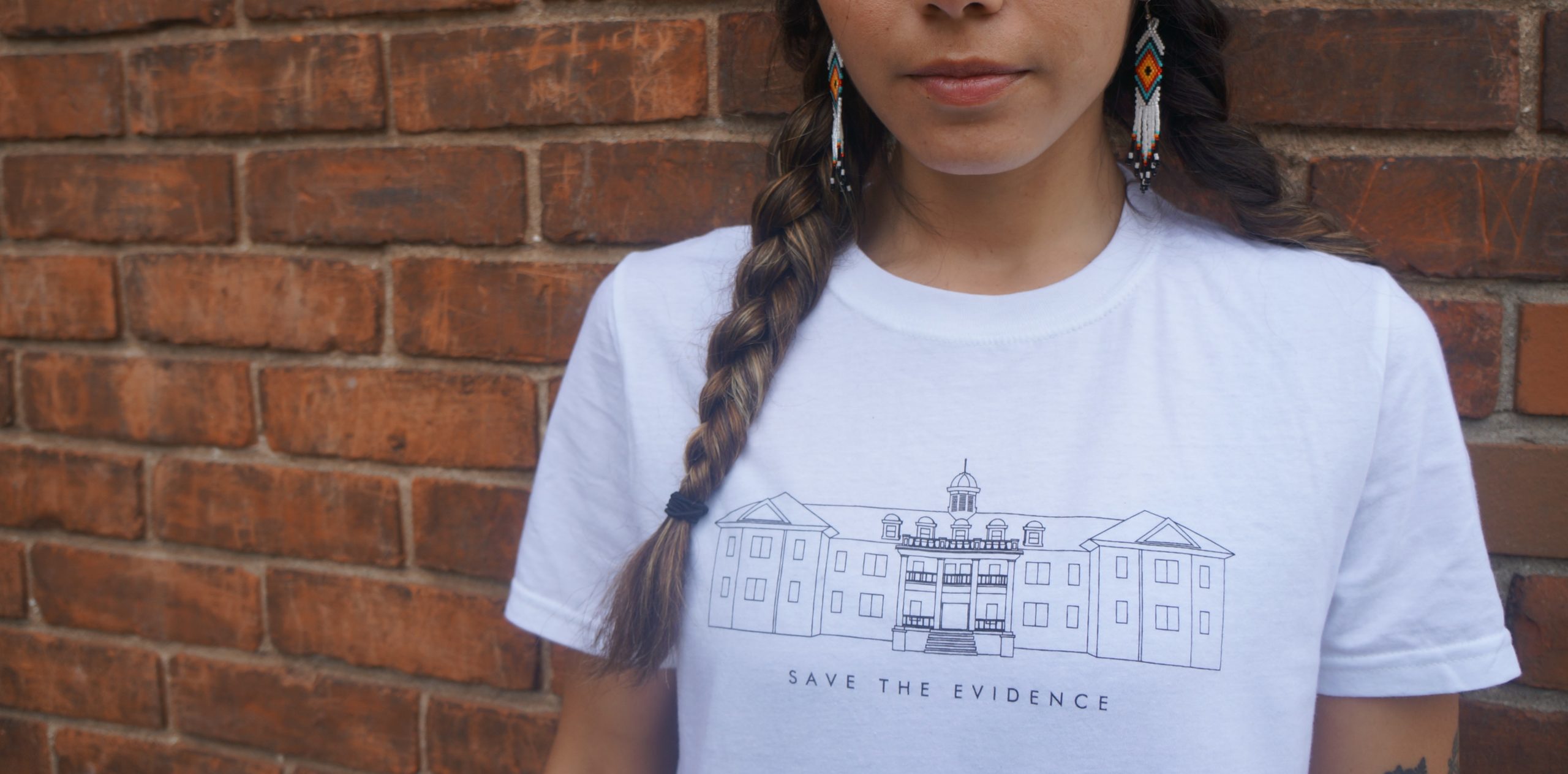 One of our favourite items this year is our Save the Evidence Shirts with the Mohawk Institute Building on the front. These shirts now are available in white and black, and are a great way to spread awareness about the significance of the project!
These shirts make the perfect gift for teachers, coworkers, friends and family.
Currently only available in adult sizes
$25
---
Fatty Legs: A True Story
This book is an interesting story of an Inuit girl who wanted to learn to read. This book has been wildly honoured in the Childrens' book world. It documents her experience at a Residential School and shares the true story of what many Indigenous children experienced during that time. Fatty Legs made the Globe and Mail's Ten Best Children's Books of the Year in 2010 and was named a finalist for the Sheila A. Egoff Children's Literature Prize, part of the BC Book Prize awards. 
This book is a grade 4+ reading level.
A great gift idea for someone younger, or even a teacher who teaches at that Grade level for their classroom.
$22
A Stranger at Home: Sequel to the Powerful Memoir Fatty Legs
The sequel to the award-winning Fatty Legs, A Stranger at Home continues the story of Margaret Pokiak-Fenton, who again works with her daughter-in-law, Christy Jordon-Fenton, to tell her tale. This part of the story tells about the young girl's return home and the struggles of going back to her family and community after her experience at the Residential School. Her own mother does not recognize her.
A Stranger at Home book is a grade 4+ reading level.
The perfect combination with Fatty Legs.
$22
---
When We Were Alone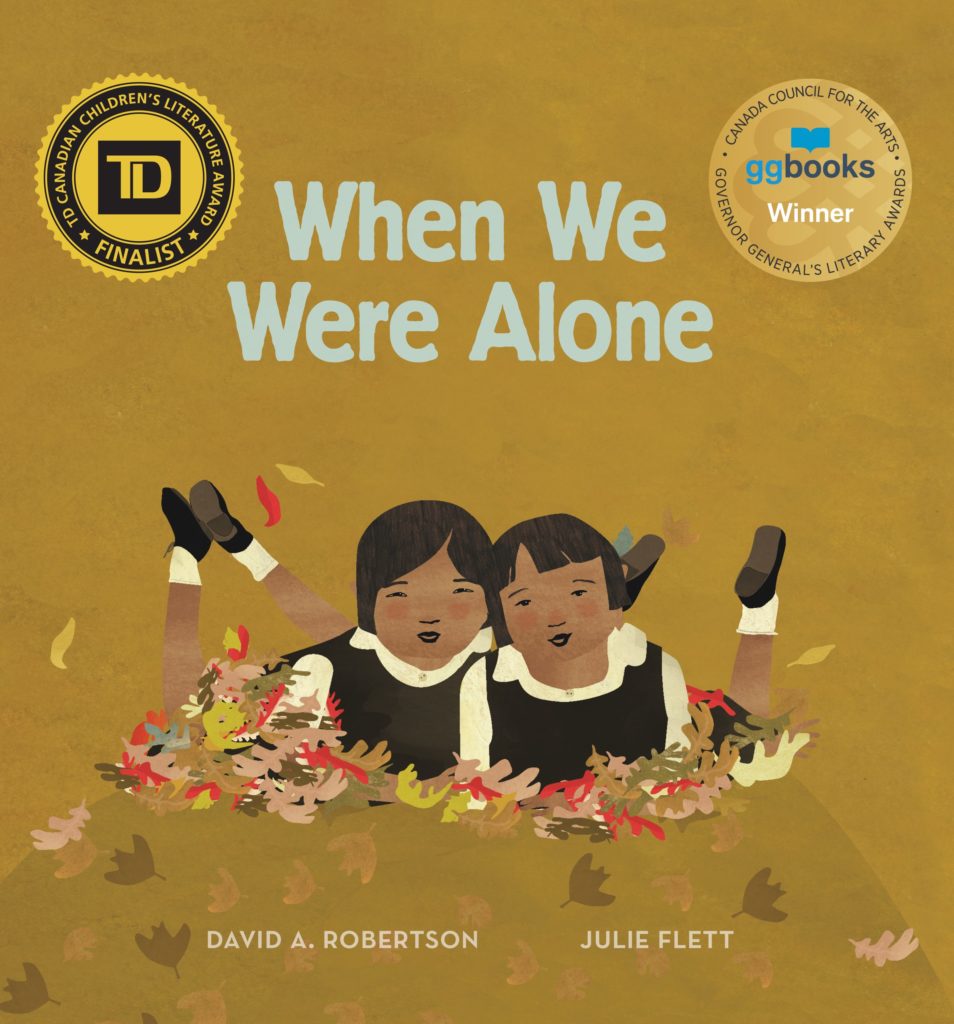 Winner of the Governor General's Literacy Award as well as a finalist for the TD Canadian Children's Literature Award, When We Were Young is a celebrated children's book. An important conversation to have with children, this 24 page picture book tells the story of a young girl learning about her grandmother's experiences at Residential School.
This gentle and honest means of learning is the perfect way to highlight the importance and resilience of family relationships.
When We Were Alone is suitable for youth from Kindergarten to Gr.3.
This is a great book for younger classrooms or as a gift for a teacher
$20
---
Residential School: A Children's History
Residential Schools: With the Words and Images of Survivors, A National History EPUB honours the Survivors of residential schools.  A finalist for the Norma Fleck award, this book offers a first-person perspective of the residential school system in Canada, as it shares the memories of more than 70 survivors from across Canada, as well as 125 archival and contemporary images (65 black & white photographs, 51 colour, some never before published). The detailed, full colour map showing residential schools, timeline with key dates, glossary, and a helpful index (including names of survivors and schools) make this vital resource a must-have for students at both a secondary and post-secondary level, libraries, and the general reader looking for more information about Residential Schools.
Residential School: A Children's History is recommended for secondary and post secondary reading levels
$35
All of these Gift Ideas support the Save the Evidence Campaign directly and can be purchased at our Front Desk or also online!
For more information on Fundraising Contact:
Carley Gallant-Jenkins
Save the Evidence Coordinator
ste@woodlandculturalcentre.ca
Share This Story!