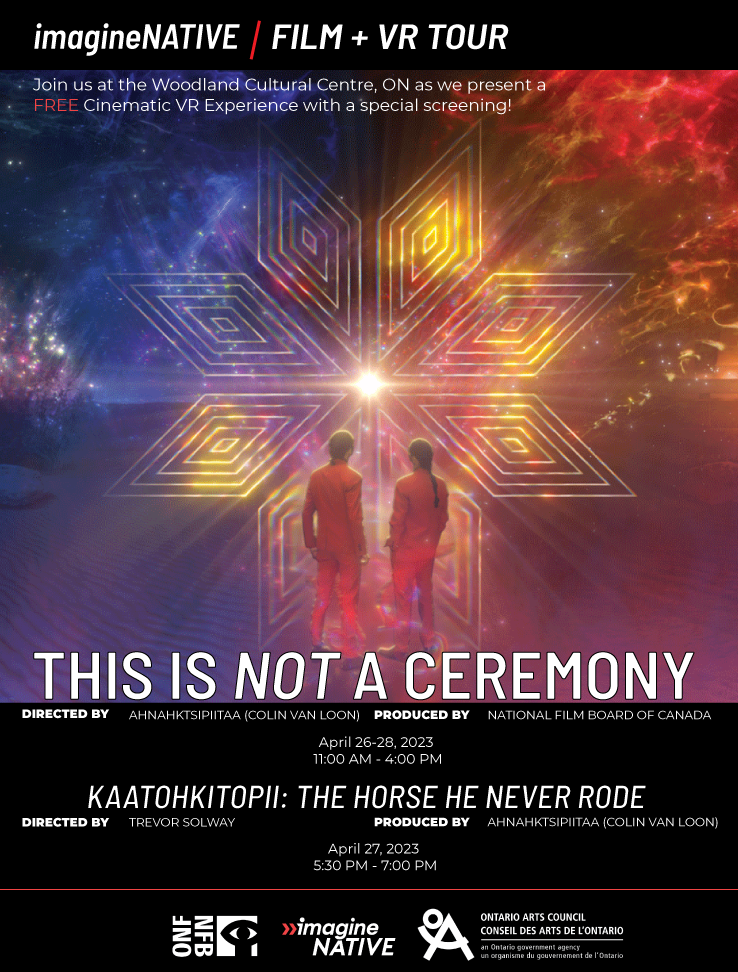 Bring your family and friends to experience the imagineNATIVE Film + VR Tour at the Woodland Cultural Centre in Brantford, Ontario, from April 26-28!
We are excited for you to join us and explore the power of VR technology to transport you to the world of the immersive VR experience, This is Not a Ceremony, produced by the National Film Board of Canada, allowing you to witness the stories of two Indigenous men wounded by the colonial tradition of systemic racism.
To accompany this experience, we will be screening Kaatohkitopii: The Horse He Never Rode, produced by Colin Van Loon. This POV documentary, narrated by director Trevor Solway begins with his earliest memories of his grandfather Sonny Solway, a lifelong rancher and "Indian Cowboy."
This one-of-a-kind experience will ignite your senses, spark your curiosity, and create unforgettable memories. Don't miss out on this extraordinary opportunity to connect with Indigenous stories through the magic of Film + VR.
Free and open to all at the Woodland Cultural Centre – Come join us at the museum!
Film Screening of Kaatohkitopii: The Horse He Never Rode, directed by Trevor Solway
Thursday, April 27 @ 5:30 PM – 7:00 PM